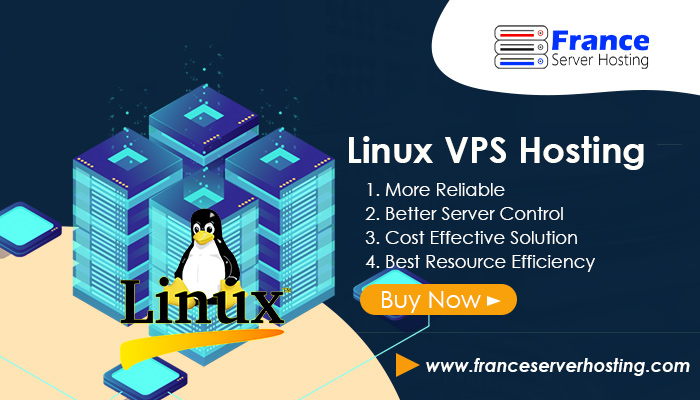 France Server Hosting offers Linux VPS Hosting at the lowest price with all flexible facilities. You can host any application on our Linux VPS hosting platform by installing your operating system and software. Linux VPS Hosting offers a 100% uptime guarantee for your website, so you can always be sure that your website will be online and ready to serve visitors from all over the world.
France Server Hosting provides a complete range of dedicated server packages, including everything from web hosting to email services in one package. It also has a great deal of experience in providing reliable web hosting solutions to small businesses and individuals at high-quality and affordable prices. Our company is committed to giving you the best customer service experience possible, and we will help you build your business in today's highly competitive market.
We look forward to working with you as we strive to provide you with excellent service at affordable rates.
What is Cheap Linux VPS Hosting?
Cheap Linux VPS Hosting is a plan which suits most businesses. The services provided by cheap Linux VPS Hosting are reliable and efficient. Many companies are offering cheap Linux VPS Hosting plans to their clients. But it is hard to find a good company with affordable prices.
If you want to buy a cheap hosting plan, you should check out our website because we offer the most affordable hosting plans on the market. Our website lets you quickly find a perfect hosting plan according to your requirements. We provide all the services to make your website successful and profitable for visitors. We provide high-quality services at affordable prices so you can easily manage your website without spending too much on hosting charges.
What does Cheap Linux VPS?
Cheap Linux VPS Hosting is a virtual private server that runs on the Linux operating system. A virtual private server is an inexpensive, virtualized hosting service that offers the same features as a dedicated server with less cost and storage space.
A Linux VPS will allow you to run multiple instances of applications on the same physical hardware as well as add or remove instances as needed. This allows for greater flexibility when scaling up or down your applications.
Cheap Linux VPS Hosting comes with many features that are not available on shared hosting plans, such as:
Free upgrades and downgrades – You can upgrade your plan at any time, even if you're still using the previous plan. We will also be able to downgrade your plan to any previous stage of your plan if needed.
Control panel access – You have full control over all aspects of your hosting account from our web-based control panel interface. We also provide 24/7 support via phone and email if needed.
Which virtualization technology is used for our Cheap Linux VPS?
France Server Hosting offers Linux VPS Hosting at the lowest price with all flexible facilities.
France VPS Hosting uses our Cheap Linux VPS's latest and most potent virtualization technologies. We are proud to provide you with the best performance and reliability in the hosting environment. Our Cheap Linux VPS server is customized with high-end network hardware, RAM, and CPU to deliver a fast, stable, and reliable hosting service.
We use a fully redundant hardware platform to ensure your data is safe from failure or downtime. Our cheap Linux VPS server packages come with a pesky control panel for managing your Web hosting services. You can also set up your custom domain name on our cheap Linux VPS servers with one click installation process provided by us.
Cheap VPS Hosting with cPanel.
Buy Cheap VPS Hosting at the lowest price, as we offer Linux VPS Hosting with cPanel. Our Linux VPS gives you great flexibility to manage your server anywhere and time. We provide cheap server hosting with cPanel and make it easy for our clients to manage their servers from anywhere. If you are looking for Cheap VPS Hosting, you have landed in the right place.
Our Linux VPS hosting service is available in different plan levels depending on your requirement. We offer additional features like unlimited traffic, IPs, databases, and other advanced features you need to manage your server. You can manage your server anytime through our live chat support system or toll-free number, which will help you solve any technical issues related to your server.
High Security
We offer several packages that meet your specific needs. All our packages include 24/7 support, free migration, and lifetime upgrades. Our prices are highly competitive, and we guarantee you will get cheap web hosting in France by choosing us as your host!
Multi-factor authentication – This allows you to add a second layer of security by requiring a code you receive via SMS or email.
DDoS protection – This advanced feature helps maintain server stability even when many requests are coming in at once.
SSL certificate – This protects your personal information with an encrypted connection between your browser and the website you're visiting.
24/7 Extra Technical Support
Our technical support is available 24/7, which makes it easy for you to get instant help. Our customer support team members are always ready to provide the best services to our clients.
We offer free subdomain hosting for your website with the best DNS Management, Webmail & Incoming emails like Google Apps, Exchange, etc.
Our Linux VPS Hosting is best suited for start-ups, small businesses, and developers who are looking for a better platform to grow on. We offer all major Operating Systems like Red Hat Fedora, Centos, Debi an, Ubuntu, etc., SSD storage, and plenty of bandwidth at meagre prices.
Better Bandwidth
Our Cheap VPS hosting plans have many benefits, such as better bandwidth and more space to store data. Our servers provide you with all the necessary tools, like PHP/MySQL/Perl/Python/Perl5 support, SSH access, and much more. You can use our server's resources to run your website, web application, and more. You can also build your custom website with our powerful CMS platform or third-party application.
Conclusion
This article concludes that France Server Hosting offers Linux VPS Hosting at the lowest price with all flexibility and features. France Server Hosting provides its customers with a high-quality service, which many satisfied customers have proven. If you are looking for a reliable web host, you should choose France Server Hosting.