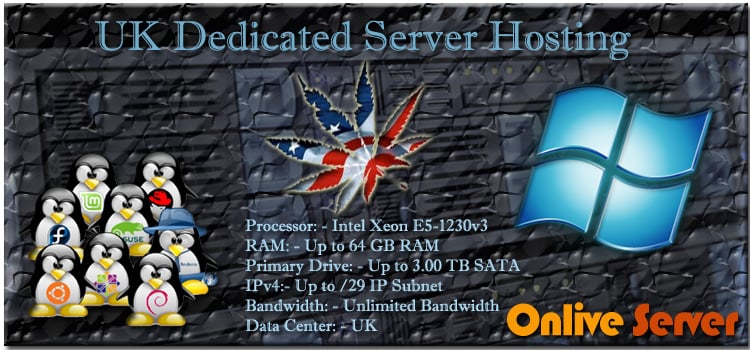 Affordable Hosting Server Plans for UK
Onlive Server presents UK Dedicated Server Hosting. Now you can enjoy the benefits of a cheap hosting server to host your website. We offer lots of hosting features with our hosting servers like high-level security, server's data security, data backup facility, high traffic generation, HDD storage, 24/7 server monitoring by expert technical support team, choice of operating system, control panel facility, data center facility and much more. You can use our hosting server for many purposes like to host your website, development of site and software, file storage, data backup, gaming server and for your many purposes.
We provide our own data center nearby you in the UK. Due to the nearer data center, you will get up to 99.99% network uptime guarantee. For the security of the server, we provide you firewall security system that protects your server from unauthorized access and from malicious software programs. For server monitoring we hire expert technical support team which is always available and monitor your server all day and night. If any problem occurs in your server, they resolve it very quickly. You can also contact them anytime whenever you face any server issue. They will respond you as possible as they can.
We provide you lots of best dedicated server hosting plans for your hosting server according to your need and demand. As well you can also customize your hosting server according to your requirement. You can add software to it of your choice.
UK Dedicated Servers Hosting Server Plans
UK Server – DSX1 – Intel Xeon E3-1230v3 (4c, 8t, 3.3 GHz)
Dedicated Servers UK – UK Server – DSX2 – Intel Xeon E3-1230v5 (4c, 8t, 3.4 GHz)
Dedicated Server UK – UK Server – DSX3 – Intel Xeon E5-1230v3 (8c, 16t, 2.4 GHz)
Processor: – Intel Xeon E5-1230v3
RAM: – Up to 64 GB RAM
Primary Drive: – Up to 3.00 TB SATA
IPv4:- Up to /29 IP Subnet
Bandwidth: – Unlimited Bandwidth with 1000 Mbps
Control Panel: – cPanel/WHM, Plesk- Unlimited Domains, DirectAdmin
Data Center: – UK