Hyper-V Technical Support Management
Onlive Server one of leading and professional Hyper-V Technical Support management Service provider Company. We provide core Hyper-V management, Linux based open source configuration, windows configuration, Expert capabilities & support, third party open source installations like lamp, red5, cluster setup, configuration with fail-over solutions, network & disk storage management as well as manage guest OS on the virtual machines, instant response time within few minutes guaranteed for support tickets, Minimum Problem resolution time guarantee for support tickets.
50 Support Tickets
Server Security Configuration
Monitoring VPS Resources
Network bridging with natting
Master server management
VPS creation and customization.
75 Support Tickets
Server Security
Managing and Monitoring VPS Resources
automated deployment of VMs
Network bridging with natting
Master server management
VPS backup & restoration
VPS creation, customization and reboots
Unlimited Support Tickets
24x7 Server Monitoring & Response
Server Security
Managing and Monitoring VPS Resources
automated deployment of VMs
Network bridging with natting
Master server management
VPS backup & restoration
VPS creation, customization and reboots
WHMCS integration enabled
VM's advance security installations
Microsoft Hyper-V Server Management System is based on hyper visor virtualization systems. It provides the managed and comprehensive performance to monitor Microsoft Hyper-V servers and their guest virtual machines. It helps to check out the box reports, graphical views, alarms, thresholds, and comprehensive fault management capabilities. Hyper-V server management ensures their Hyper-V environment to runs at peak performance.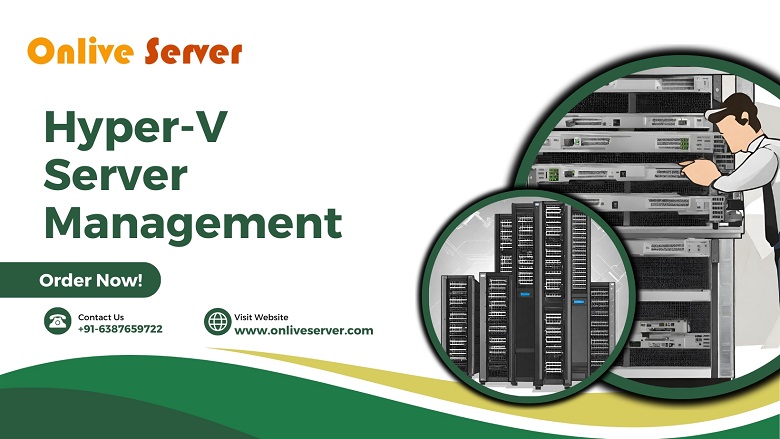 Some of other important features. Such as: –
Professional Installation Expert
Windows PowerShell Directory Listing
Shared Virtual Hard Disks in Hyper-V 2016
Virtual Machine Backup Strategy
Rolling Hyper-V Cluster Upgrade
Adding Memory or Replacing a Dead Network Adapter
Host Resource Protection Hyper-V
Linux Secure Boot Support
Live Migration of Virtual Machines
Nested Virtualization VMware
Containers VMware
Shielded Virtual Machines
Applications Manager also provides helps in capacity planning to aid of end-user monitoring. The Hyper-V monitoring feature, along with the support for VMware and Citrix XenServer enables you to manage virtualization solutions from multiple vendors from a single management console.
Hyper-V CPU Usage
First of all, to Know which resource is consuming more CPU. The Metrics tracked include Total CPU utilization, Guest CPU utilization, Hyper-V CPU utilization, idle CPU utilization, etc.
Everything You Need to Know About Hyper V Server Management
Hyper-V is a hardware virtualization product that comes from Microsoft. It allows users to create and operate a virtual machine or software version of their computers. Each virtual unit serves in the form of a complete machine or computer, having its very own programs and operating system. These virtual machines offer more flexibility when computing resources are required by the users and thus help in saving money and time. They are one of the most efficient ways of using hardware.
How can Hyper-V server management help you?
Hyper-V server management means running each virtual unit in its very own secluded location or isolated space. This means that the users get the ability of running more than one machine on the same hardware simultaneously. This can be done for avoiding issues like crashes affecting other workloads or for giving different services, groups and people easy access to varied systems. Hyper-V server management can help in:
Expanding or establishing private cloud environments.
Providing more flexible and on-demand information technology solutions simply by shifting or expanding the use of different shared resources and adjusting use with changes in demand.
Using hardware in a more effective manner.
Consolidating workloads and servers onto fewer and more powerful computers for using less physical space and power.
Improving business continuity.
Minimizing the influence of scheduled and even unscheduled downtime of workloads.
Expanding and establishing VDI or virtual desktop infrastructure.Using centralized desktop plan with VDI help in increasing data security and business agility.
Making development and testing more efficient.
Reproducing varied computing environments without buying or maintaining hardware.
What are the features of Hyper-V server management?
There are several features that come with Hyper-V and they are as follows:
Hyper-V virtual machines include basic parts as physical computers. These parts are storage, networking, processor and memory. All these different parts come with options and features that can be configured in different ways for meeting different requirements. Networking and storage can be considered specific categories as they can be configured in different ways.