WHM Control Panel: –
WHM cPanel or control panel is the ultimate web hosting control panel that provides by hosting providers. If you are looking for a tool to design and control your website then here is the best chance to find the right solution. WHM Control Panel allows managing the website from the web-based interface. Control Panel (Cpanel) provides easy and ultimate graphical interface that efficiently controls the portion of the Unix server. Users and administrators can easily control the server and website through the browser directly. It is open source software that has the auto installer and the package. cPanel is the web hosting control panel and widely used to worldwide for managing their hosting server. Basically, cPanel completely based on Linux Operating System that has the powerful features and benefits for the end user.
Need help? Call Our Expert Technical Support Team 24*7 at +91 9990 50 7737 & Skype: ONLIVEINFOTECH
Unlimited cPanel Accounts
Direct Updates From cPanel
Free Softaculous, Sitepad & SSL
Safe & Secure Guarantee
One Click Script Installation
Change Server IP
No Money Refund
WHM cPanel and its Features: –
cPanel is the popular control that helping to easily manage the web hosting server. cPanel have ultimate human-friendly. Onlive Server is the affordable hosting providers that offer the unique solution for the customers. cPanel is the ease of installation and much useful for more number of applications. cPanel requires the Linux operating system with a minimum of 20 GB disk space and 512 MB of RAM.
The company provides full support service if user faces any kind of problem to use the WHM Cpanel at the very affordable price. Onlive Server has owned their own server hosting Data Centre in more than 30 countries. The company is a well reputed to provide server hosting services and technical support. So, if you face any kind of problem to installing, Using or any other issue just contact us now. Our technical support team available 24 hours to solve your problem as soon as possible.
What Users Do Not Know about WHM cPanel?
WHM cPanel or Web Host Manager Control panel is targeted towards being advantageous for the small website hosting organizations and resellers. One of the most significant functions served by WHM cPanel is providing resellers and server administrators easy access to different server functions and tools. A few common questions asked about WHM cPanel are as follows:
What are the different functions and tools of WHM cPanel?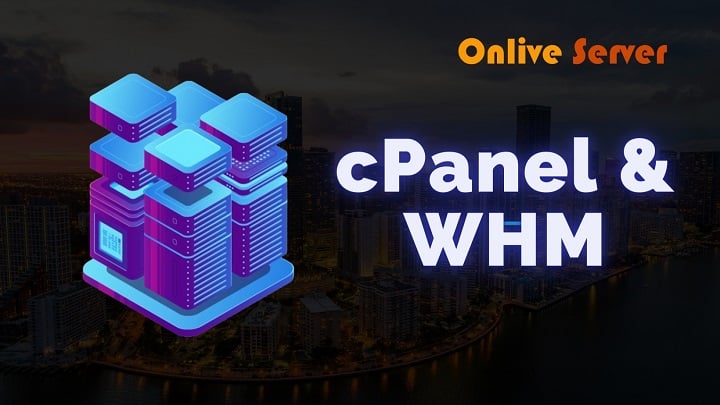 Some of the major functions served by WHM cPanel include:
Configuring the accounts of the end-users and the resellers.
Configuring DNS
Setting up cPanel.
Establishing certain service packages included in different website hosting deals.
Establishing minimal folders and files included in new accounts.
Beginning, suspending and terminating account services.
Adding, deleting and modifying IP addresses.
Enabling reseller and branding accounts
Monitoring account activity
Setting up email along with the modification of MX entries.
Is it possible to upgrade an existing cPanel account to the WHM cPanel?
No, this is not possible because different WHM cPanel accounts make use of different infrastructure. Also, they use new sets of libraries and software targeted towards satiating the requirements of the resellers. If at all, you are looking to upgrade existing hosting solutions to WHM cPanel, you will have to order a brand new reseller account.
How to add a domain or account in WHM?
The very first thing that you will have to do is come up with a package within the WHM cPanel before adding any new account. Once you are done with this, you can easily add a domain name. You need to log into WHM and locate the option that says Create a New Account. Put in the desired domain name and a username will be auto-generated. You need to create a password here. Now choose the package you made and WHM cPanel will make the account for your chosen domain name. DNS records will also be created.
50 Support Tickets
1 Hour Response Time
24x7 Support Available
Human response to Alerts
Plesk installation configuration
DNS setup configuration
SSL Configuration and installation
Server Security
Software Installations
75 Support Tickets
30 Minutes Response Time
24x7 Support Available
Human response to Alerts
Plesk installation configuration
DNS setup configuration
SSL Configuration and installation
Server Security
Software Installations
Backup management
Unlimited Support Tickets
15 Minutes Response Time
24x7 Support Available
Human response to Alerts
Plesk installation configuration
DNS setup configuration
SSL Configuration and installation
Server Security
Software Installations
Apache & Nginx optimization
PHP optimization
MySQL Optimization
Backup management