Choose Our Cheapest Cloud Hosting
cheapest cloud hosting server totally depends upon our business goals. Now, these days Cheapest Cloud Hosting is a suitable choice for the e-commerce website and complex applications. Based on latest & innovative technology, Onlive Server provides Ultra fast, auto-scalable cheap Cloud servers Hosting Platform to host our website with fully customizable plans. It is totally based on innovative cloud computing technology which allows multiple numbers of machines to work on a single platform. Whether you are a start-up or want to develop a small project, our Cheap Cloud Servers VPS Hosting is the best option for you. It provides you with many resources such as High bandwidth, security, RAM, Data storage space and much more for your website growth. Our Cheap Cloud Servers Hosting gives you a full environment of VPS as well dedicated. You will get each and every facility just like Dedicated & VPS.
Deploy Cheap Cloud Server Hosting Plans
Data Center
Plan/Cores/RAM/Space/Bandwidth/Hypervisor
Operating System
Monthly
Action
Cheapest Cloud Hosting Server is a software/hardware independent unit so there is no fear of server failure in case of any hardware failure. It guarantees us to give the highest level of website performance, many server resources, redundant data storage, free from server failure, flexibility, affordable price, 24/7 technical support team, and many generous features.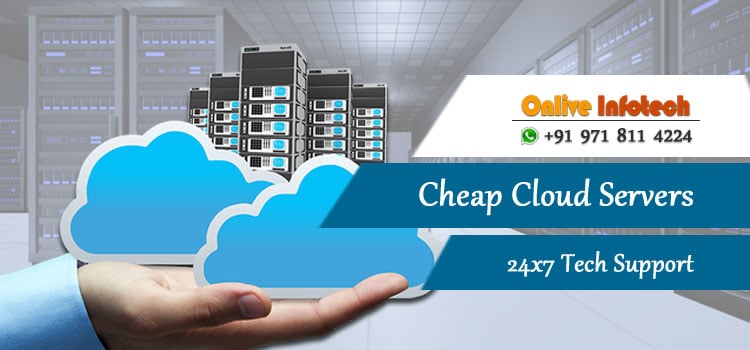 Selection of the Cheap Cloud Servers lets to easily achieve the business goal with increasing the website performance and traffic to the maximum. Choosing the modern and Cheapest Cloud Hosting would let you to easily use for complex applications and e-commerce website. With the advancement in the Innovative and latest technology, many numbers of Cloud Servers are available across the world and one of the best in the Onlive Server. With easily bringing the ultimate feature of Ultrafast as well as auto-scalable cheap Cloud servers platform, it is the much more superior option for easily bringing you the finest facilities to maximum for the website. With the use of the highly advanced cloud servers, it is more useful for easily bringing you the ultimate option for securing the website to a maximum. Hosting the website with the fully customized plan also lets you to easily increase the performance of the website to the maximum without any hassle.
Cheap Cloud Servers
Get high-performance server hosting services to your website, we included KVM facility in our Cheap Cloud Servers Hosting that manages VM address spaces, Input/output flow and maintains your website performance. With full root access, you will get full freedom to modify all the server software according to your business need. It is stable, fast & secure as well hold the best stability and don't suffer any hardware and software problem. Due to its dedicated resources, it is widely used all over the world. With Cloud Server Hosting, there is no need to save any data as it automatically saves our server's data and gives us a disaster recovery solution for us. Apart from services, its affordability makes it more demanding as we get all the benefits of dedicated as well VPS at a lower price. We pay only for the resources which we use. Recently we have Cheap Cloud Servers hosting available in India, South Korea, France, USA, Turkey, and the UK. In the next upcoming days, you will get cheap Cloud Servers Facility in approx 30 plus countries worldwide.
Benefits of Cloud Server Hosting
Availability
Cheapest Cloud Hosting Server never fell down so you will get 24/7 maximum network availability and Zero downtime for your Website.
Scalability of resources
If you have a large or small website then you can increase or decrease our hosting resources like computing cores, RAM, Storage Devices as per your business need and pay only for the resources which are used by you.
Safety and security
With Cloud VPS Hosting Servers you will get the safety of your personal data by Firewalls, data backup solution, encryption of data & Dedicated IT support.
Cost-efficiency
In Cloud, you pay only for the resources which are used by you so it gives a cost-effective solution to our hosting server.
---