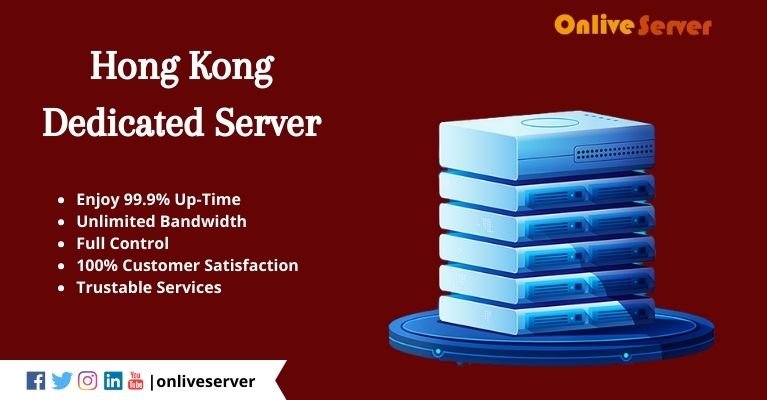 Dedicated server hosting provides you with the security and freedom to do whatever you want with your server. As the owner of your server, you'll have root-level access to change its settings, control who logs in, install software, change passwords, and more. We can provide you with a window or Linux dedicated server depending on what you need it for, and our Hong Kong dedicated Server hosting plans come with a range of options so that you can choose what works best for your business.
Hong Kong Dedicated Server
Why choose Hong Kong? If you run an e-commerce business, look at building your site on a Hong Kong server. In terms of cost effectiveness and scalability, it is difficult to beat; not only are Hong Kong serves more affordable than servers in other countries, but they are also more scalable and offer a far greater amount of bandwidth. This means that your business won't have any trouble growing as fast as it needs to.
Key Advantages
Hong Kong is a special administrative region of China and has its own government. It has strict policies against censorship and is approve for being very progressive, especially for internet freedoms. Since Hong Kong dedicated web hosting is so close to mainland China (about an hour's drive away), there are many benefits that you can reap from using our cheap Hong Kong dedicated server hosting. We will be more than happy to assist you with questions you may have about setting up your Hong Kong dedicated hosting package. Reach out.
Reasons for Choosing a Hong Kong Data Center
Hong Kong has very few restrictions on hosting companies with server management and service provision. The government also doesn't impose limits on bandwidth usage or content filtering. That means you can create a free-speech website that's popular with users in China without fear of it being banned. Also, Hong Kong offers more reliable power than many other Asian countries—which is important if you're running a business critical to your business continuity, such as a web host or email provider.
World-Class Features Bundled with every Dedicated Server
Fast SSD Storage
We provide dedicated servers with fast solid-state drives (SSDs) which are much faster than traditional hard disk drives. This great improves performance and throughput of your server application.
Dedicated IP Address
Each of our dedicated servers includes an IP address that is unique to you. This means that no one else will use your IP address. This level of dedicated control over your server will allow you to customize it just how you like it.
1 GBPS Port Speed
Because of our Hong Kong dedicated server WordPress web hosting farm being collocated in a state-of-the-art data center in Hong Kong you will be provided with a 1 GBPS port speed.
Full Root & Shell Access (SSH)
Full Root & Shell Access allows you to do whatever you want with your server. If you know what you're doing, then there is really no limit to what I can do on a dedicated server.
RAID Storage
A Redundant Array of Independent Disks (RAID) is a computer storage technology that combines multiple hard disk drives into a single logical unit. Using RAID gives you better read/write performance and prevents data loss in case one of your hard disks fails.
Standard DDoS Protection
Hackers usually try to overload a site's server with bogus requests in order to bring it down.
Massive Bandwidth
With a high performing Hong Kong dedicated server, spare capacity is everything. That's why we offer massive bandwidth for all of our plans, so that you can make use of as much data as possible without affecting your sites performance.
24×7 Tech Support & Monitoring
Our team is available 24/7 to help you with any problems or concerns. We also monitor all of our server hardware and software to ensure maximum performance and reliability.
Unlimited SSL Certificate
All of our hosting plans are automatically provided with an SSL certificate for free. It is a one-click install to get your site securely encrypted and secure from prying eyes. Use it on any sub-domain or directory of your choosing.
Security Bundle Installation
The security bundle is a combination of software that will help keep your server safe from attack and intrusion. The security bundle includes an intrusion detection system, firewall and antivirus software.
A top class dedicated server for a business website in Hong Kong, We provides you with full control over your server. That means that you can install and run whatever you want on it.
Conclusion
Hong Kong Dedicated Server is very stable in terms of network connectivity and you will not experience any connection problems. To host companies, Hettich provides outstanding value and performance. Overall, it's an excellent option to get started with running your own web server.