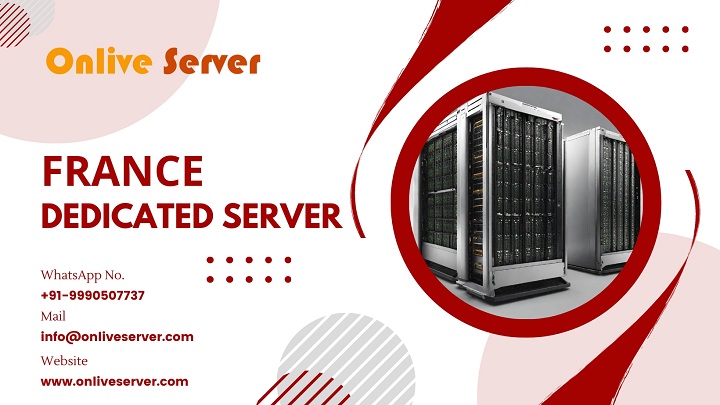 If you're looking for a top-notch, reliable, and innovative hosting provider for your websites or applications, then you should consider France Dedicated Server Hosting plans. This type of hosting is perfect for businesses or individuals with high-traffic sites or who need more control over their server environment. You are not required to share resources with other users when installing software. Additionally, these servers are very economical. You only pay for the resources you use, and you don't have to worry about other users using up your bandwidth or CPU resources.
France Dedicated Server
A France Dedicated Hosting can be used for various purposes, including hosting websites, storing files, and running applications. A dedicated server can be used by businesses of all sizes, from small to large enterprises. A dedicated server can offer you more control over your website's security and performance. And, because a dedicated server is not shared with other businesses, you'll have more reliability and uptime. We can help you choose the right Dedicated Server package and configure it to meet your needs.
What are the Benefits of Using a Dedicated Server in France?
Having a Dedicated Server in France has lots of advantages. Saving money on hosting expenses is one of the most significant advantages. Multiple websites can be hosted on a dedicated server, which helps reduce your web hosting costs. You may control your website's content more if you use a dedicated server. Additional resources like storage space and bandwidth will also be available to you.
How to Choose the Best Hosting Plan for Your Needs
Web hosting services can be broadly classified into four categories: Shared Hosting, VPS Hosting, Dedicated Hosting, and Cloud Hosting. Out of these, dedicated servers are the most expensive, while shared servers are the cheapest. So, which one should you choose? The answer depends on traffic volume, budget, site requirements, etc. Let's take a look at each of these in detail:
– Traffic volume: If you expect a lot of traffic on your site, then you will need a hosting plan to accommodate it. Shared plans are best suited for low-traffic sites, while VPS or dedicated plans can handle high-traffic volumes.
– Budget: This is obviously a major factor in deciding which type of plan to go for. If money is no object, go for the best option available, i.e., Dedicated Server Hosting. However, if you're operating on a tight budget, then Shared Hosting would be the way to go.
– Site Requirements: If your site has specific needs, such as special software or applications, then you must choose a plan that supports them.
France VPS Hosting Plans
Data Center
Plan/Cores/RAM/Space/Bandwidth/Hypervisor
Operating System
Monthly
Action
As your business in France grows, your website will need more hosting resources. A Virtual Private Server (VPS) can give your site the power it needs while being more cost-effective than a Dedicated Server. Our company provides innovative and economical France VPS Server Hosting plans to fit the needs of any business.
Our Linux VPS Hosting plans come with several features, including:
– A choice of CentOS, Debian, or Ubuntu operating system
– Full root access for complete server control
– The capacity to operate several virtual computers on a single server
– Scalability, which makes it simple to update your resources as necessary
Our Windows VPS Hosting plans include the following:
– Provides you the latest Windows Server operating system version
– Full administrator access for complete control over your server environment
The Different Types of Hosting Plans Available
Dedicated server hosting is one of the most popular and economic choices for companies looking for innovative and reliable solutions. These well-optimized servers come with several advantages that make them an ideal choice for businesses of all sizes. There are different types of hosting plans available for companies of all sizes.
Some of the advantages of dedicated servers include the following:
Scalability: These are highly scalable and can be easily upgraded as your business grows.
Reliability: These servers are known for their reliability and uptime.
Customer Support: It comes with 24/7 customer support to help you with any issues you may face.
Security: It offers a high level of security to protect your data from hackers and cyber-attacks.
Flexibility: It offers a lot of flexibility and can be customized to meet your specific needs.
France Dedicated Server and VPS Hosting
France Dedicated Server and France VPS Server hosting is an excellent option for those who want to outsource their IT requirements. Our service provides secure and reliable managed-to-host solutions that can help you reduce costs and increase productivity. Our services are designed to be scalable, so they grow with your needs without breaking the bank. At our company, we commit to delivering the best possible customer experience at competitive prices.