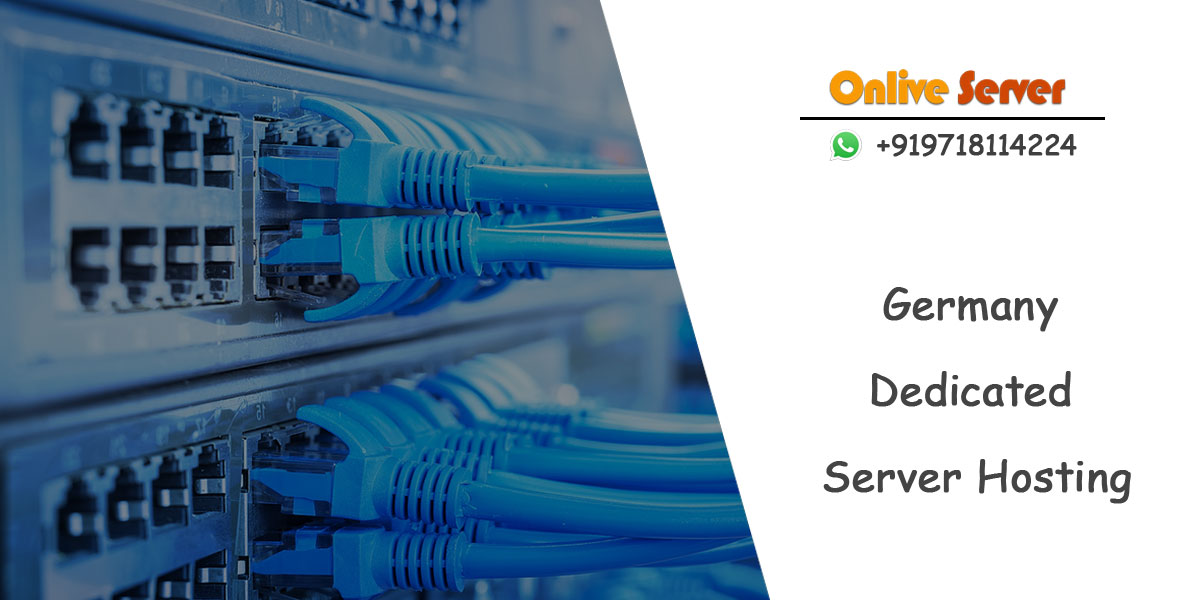 Onlive Server has provided some of Germany's most reliable and secure dedicated servers to its customers. A dedicated server is a single physical computer that can handle very high traffic very easily. You may secure your business and have easy access to global hosting services with the help of our dedicated servers. Nowadays, everyone has their own website for personal or business purposes, and most users host their websites on a dedicated server. So, if you want to host your website, go with OnLive Server Company's top web hosting services.
We provide high-performance Germany Dedicated Server hosting options at extremely low costs you won't find anywhere else. We also give customer support services 24 hours a day, 7 days a week, so that if you have any problems with our services, you may contact us immediately and we will fix your problems swiftly and efficiently, saving you time. Since 2009, our firm has provided the best and fastest hosting service available. So, it is the best time to get or buy Cheap Germany dedicated server hosting plans at a cheap price.
Fastest Dedicated Server Hosting in Germany – Onlive Server
Processor / Cores / Threads / RAM / Space
Location
Monthly
Action

Germany Dedicated Server – DSX1 – Intel Core i7-2600 – 4c/8t/3.80GHz, 16GB RAM, 1 TB SATA
Kassel, Germany
$69

Germany Dedicated Server – DSX2 – Intel Core i7-4770 – 4c/8t/3.90GHz, 32GB RAM, 2 TB SATA
Kassel, Germany
$129

Germany Dedicated Server – DSX3 – Intel Core i7-920 – 4c/8t/2.93GHz, 48GB RAM, 2 TB SATA
Kassel, Germany
$149

Germany Dedicated Server – DSX4 – Intel Core i7-3930 – 6c/12t/3.80GHz, 64GB RAM, 240GB SSD
Kassel, Germany
$199

Germany Dedicated Server – DSX5 – Intel Xeon E3-1246V3 – 4c/8t/3.90GHz, 32GB RAM, 2 TB SATA
Kassel, Germany
$129

Germany Dedicated Server – DSX6 – Intel Xeon E5-1650V2 – 6c/12t/3.90GHz, 64GB RAM, 2 TB SATA
Kassel, Germany
$169
Onlive Server is the best option if you're looking for a dedicated hosting company. With over 100 plans and 50 locations to select from, we are one of the fastest-growing firms in the server hosting industry. All of our services come with a 99.9% uptime guarantee and an around-the-clock support system. So that you may count on us for all of your hosting requirements. If you're looking for something more than shared or VPS hosting, we recommend OnLive Server's Germany dedicated hosting solution, which comes at a reasonable price. Our dedicated servers include free DDOS protection and Ipv6 compatibility, making them ideal for large-scale enterprises that require high bandwidth and short latency times as compared to other hosting solutions.
Why Should You Opt for a Dedicated Server in Germany?
Dedicated servers in Germany are perfect for hosting your company's website, social media platforms, and other online applications. There are several advantages to choosing a Germany dedicated server:
Cost-effective
Our company offers high-performance dedicated server hosting at a reasonable price because of its extensive network infrastructure. You will make use of the top services at a lower cost than ever before!
High- Performance
A Germany dedicated hosting account provides lightning-fast connection rates, allowing for seamless data transfer. You'll be able to launch your website in no time thanks to these super-fast internet connections!
No More Downtimes
You'll never have to worry about downtime again if you use a cloud server. This is because your server is located in a remote data center that may be accessed from anywhere on the planet. You also receive the benefits of scalability and high availability with this type of hosting solution. Because numerous servers are functioning, your website will never go down because of technical issues or power outages. You can rest confident that your business will always be up and running properly with no downtime with our best-dedicated server Germany packages. And what happens when things go wrong? We keep an eye on our servers 24 hours a day, 7 days a week, so we can spot issues before they become major issues…and repair them before they become disasters!
99.9% Uptime
You'll also benefit from our 99.9% uptime guarantee, which is monitored by our professional staff 24 hours a day, seven days a week. You can rest confident that your server will be up and operating with no downtime for the life of your contract. Another advantage of choosing us over other providers is that we have a dedicated crew whose sole responsibility is to ensure that your server is up and running with no mistakes or downtime. Their continuous monitoring system ensures that everything operates well at all times, even during peak traffic hours when other providers may struggle or go out entirely!
Server Security & Firewall Protection
When renting a dedicated server, one of the most crucial factors to consider is security. It makes no difference how much money you spend on your dedicated server if it isn't secure. Dedicated servers are in high demand for both organizations and individuals. Because they offer a cost-effective way for businesses to manage their activities online. When it comes to running a business online or storing data in the cloud, though, it's a different story. If something isn't done correctly, a lot of things can go wrong.
Having powerful firewalls implemented on your dedicated server is a fantastic example. As a result, hackers cannot readily gain access to them through brute force assaults or other means such as DDOS (Distributed Denial of Service). It prevented hackers from obtaining access to the system without permission, thanks to firewalls. It protects your company's data from being stolen or tampered with by unauthorized individuals outside of the network perimeter.
Summary
Onlive Server provides experienced monitoring, rapid response, and proactive problem resolution 24 hours a day, 7 days a week. We will assist you in selecting the most appropriate and cost-effective hosting plan for your needs. Our support team is always ready to assist you with the most up-to-date hardware configuration on a Germany Dedicated Server. Please contact us by live chat or email; we are always happy to assist you with your hosting-related difficulties.