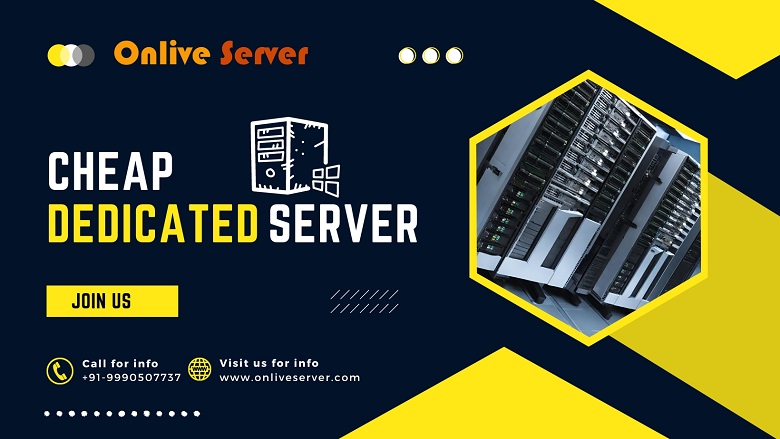 Cheap Dedicated Server Hosting
Shared hosting is quite popular among many site owners. It is affordable and easy to set up but not better when compared to Cheap Dedicated Server Hosting. Moreover, if you are thinking of running multiplayer online Gaming, it isn't effortless without a dedicated hosting server. Shared hosting can affect the speed of your website and application. We only recommend our cheap dedicated server for gaming and large businesses. If you are a game developer, then the chances are that your clients ask for a gaming dedicated server, which works without hassle. Onlive Server is ready to serve your clients and site owners with its endless hosting services at reasonable costs.
Pick the Cheap Dedicated Server Hosting Plan
Processor / Cores / Threads / RAM / Space
Location
Monthly
Action

France Dedicated Server – DSX1 – Intel Xeon-D 2123IT – 4c/8t/3.0GHz, 32GB RAM, 2x 2TB HDD SATA
Gravelines, France
$110

Germany Dedicated Server – DSX1 – Intel Core i7-2600 – 4c/8t/3.80GHz, 16GB RAM, 1 TB SATA
Kassel, Germany
$69

Hong Kong Dedicated Server – DSX1 – 2x Intel Core i3-4150 – 4c/8t/3.50 GHz, 8GB RAM, 1TB HDD
Hong Kong
$249

India Server – DSX1 – Intel Xeon E3 2136 - 6C/12T/4.50 GHz, 16 GB RAM, 480 GB SSD raid 1
Noida, India
$149

Malaysia Dedicated Server – DSX1 – Intel Xeon E3-1275 – 4c/8t/3.80GHz, 8GB RAM, 1TB SATA
Malaysia
$140

South Korea Server – DSX1 – Intel Xeon L5630 – 4c/8t/2.40GHz, 8GB RAM, 1TB SATA
Seoul, South Korea
$89

Thailand Dedicated Server – DSX1 – Intel Core i7-4790 – 4c/8t/4.00 GHz, 8GB RAM, 500GB HDD
Bangkok, Thailand
$149

Turkey Dedicated Server – DSX1 – Intel Xeon E3-1240– 4c/8t/3.7GHz, 8GB RAM, 2x 500GB SATA
Istanbul, Turkey
$89

USA Dedicated Server – DSX1 – AMD Quadcore – 4c/8t/3.0Ghz+, 16 GB RAM, 1TB SATA
Kansas City, USA
$79
What is a Dedicated Hosting Server?
Dedicated Hosting Server allows the clients to lease an entire server. In shared hosting, many sites are run on a single server. This is not the case in the Dedicated hosting service. There is more flexibility in dedicated hosting as clients have full control of the server, security system, and software. Hosting service provides you access to server administration as an add-on service. No doubt, it is more reliable and perfect for your website, applications, and business. It boosts the performance of your site. Some of the advantages of dedicated servers include superb performance, reliable, high security, email stability, control, and increased flexibility. Onlive Server provides full access to a server according to the chosen plan you. Our cheap dedicated server hosting is affordable and appropriate to handle a large volume of traffic.
When your site needs a Dedicated Hosting Server?
Opting dedicated hosting is crucial when your site is growing. If monthly visitors have ramped up and the site's performance is going down, it's time for upgrading your hosting plan. All you need, to do research and choose the right hosting provider; for dedicated hosting service. It may seem costly to you first, but that would be a significant investment. You will get the outcomes after some days. In addition, the growing number of black hat hackers can put your site at risk. They can steal the user's credentials through various attacks. Protect your website by being its security system in charge. Leave these things to us if you are not having prior experience in managing everything on our cheap dedicated server. Onlive Server understands your problem and tries to come up with proper solutions. We try to assist customers and support them in handling their server and security as well on their own.
Watch Video
Do Dedicated Hosting Server is appropriate for gaming?
The gaming industry is never going to fall. New games are uploaded daily on Google Play Store. It is a highly profitable industry. Therefore, developing your own game and uploading it to the play store is a great idea. However, you will need a server to host your backend as well as front end files. Special Gaming Dedicated Server is available for this. A dedicated hosting server offers uninterrupted service to clients. Onlive Server supply users with numerous plans on Gaming dedicated server to run any game smoothly. Besides, large businesses operating online can take advantage of our cheap dedicated server. Onlive Server delivers quality hosting solutions to every customer. It is serving in more than 30 major countries such as the UK, USA, Germany, France, Israel, Spain, and others.
Can you trust Onlive Server?
Without your trust, we can't provide you the essence of our services. We have a support team of adept server managers to be there for clients anytime. Don't worry about your site's health. We promise you to deliver top service under affordable rates and plans.