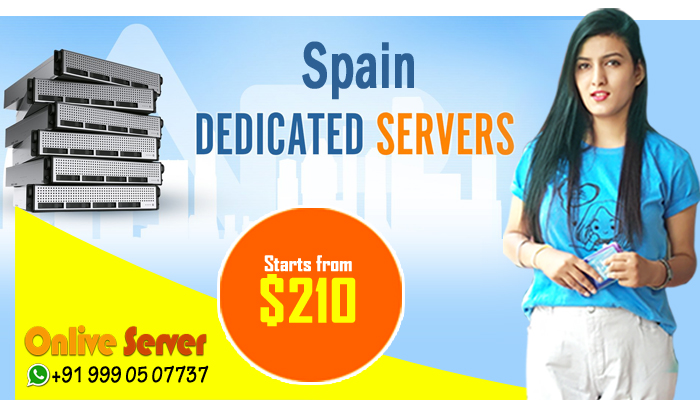 Secure Spain Dedicated Server Plans
Onlive Server is master of providing Spain Dedicated Server, VPS Hosting plans for Valencia, Spain here, you can manage everything by its higher-level configuration. This way, you have got full control over all the servers. Our Spain Server Hosting comes with 100% guaranteed uptime SLA and high power with the core processor, superior support. It is fully flexible hosting solutions that are suited to your needs.
Processor / Cores / Threads / RAM / Space
Location
Monthly
Action

Spain Dedicated Server – DSX1 – Intel Xeon E3-1220 v3 – 4c/4t/4.310GHz, 16GB RAM, 2x1000 GB
Madrid, Spain
$210

Spain Dedicated Server – DSX2 – Intel Xeon E3-1220 v5 – 4c/4t/4x3.00GHz, 16GB RAM, 2x1000 GB
Madrid, Spain
$230
With us, get rapid deployment equipment that you can be done online in just a few hours. High-availability of Pre-define and custom configurations that are designed with core processor for specific demands. Our Spain Server Hosting provides on-site security and 24x7x365 hours of technical support. It is a perfect platform for business success.
Spain Dedicated Server Designed For Next Level Performance
Basically, Spain Dedicated Server has two primary plans that are available in this form "Dedicated Server and VPS Hosting" at a very cheapest price. Our hosting plans come with exceptional performance that makes improves server security in multiple ways such as: highly protected by DDoS, TLS and SSL protection. We have right hosting solution for your server monitoring and you can use it for multi Web Hosting Control Panels like ZPanel, WHM, Plesk, Virtualmin, CentOS WebPanel, more and Proxy IP server, Mail hosting, Database, Application hosting, Backup & etc.
If you ever needed more resources for your managed server, we fulfill your request without any downtime issues. You don't need to change your system settings or moving files or databases, we give you high power and resources without affecting your settings. The OS platform available to choose for your server – Linux and Windows, Apart from that all latest versions of Linux and Windows available.
We provide higher security within secure carbo data-centers in worldwide location, no matter where you or your customers. But Valencia is our nearest data-center for Spain's users. The main benefit of our hosting is that get total freedom on your server.
Spain Dedicated Server Hosting 
Our Spain Dedicated Server is the right hosting option because it gives higher performance and maximum control for your online business websites. Our Spain Dedicated Server comes with Intel Celeron and Intel Xeon processor, its starting range at just $129 per month. your business websites run efficiently, perform all tasks easily and gives 10x faster network connection. Here the wide choice of pre-defined hosting plans as well as you can make your custom plans as per needs. You can use our Spain Dedicated Server hosting plans for big data, website hosting and application hosting, backups and storage, even online game hosting or Minecraft servers.
Included with your Spain Dedicated Server
Our Spain Servers are located in a nearest Data Center in Spain that is Valencia.
Hardware Firewall, DDoS, SLA, SSL to ensure security on your servers, that is completely free.
Pre-install web hosting control panel available on each server, through this you can perform any task easily.
Spain Dedicated servers come with Unmetered bandwidth plans without any hidden charges.
Automatic installation Operating System.
Possibility of multiple IPs and guaranteed connection.
Cheap VPS Server Hosting Spain
Our Cheapest Spain VPS Server Hosting is a most suitable server for every kind small or large business websites. If you have business in Spain and face a shortage of money, then its time to use our VPS. basically, it is cheap in comparison to Dedicated Server, so that is the reason customers attract more in our VPS servers.
Our Spain VPS Server starting range at just $21 per month with 1 Core, 1 GB RAM, 30 GB HDD, 1000 GB Bandwidth, KVM VPS. Get a high-performance server with unlimited SSD storage and furthermore, many plans available with the different configuration at different price. Take high advantages of server security, email stability, fully control and get a large volume of traffic on the business website.
Top Advantages of Spain VPS Hosting:
Instant Deployment
Customizable Configurations
Fully managed support included
Lower maintenance cost & Free Technical Support
Custom Operating System (Linux/Windows)
100% Network Uptime Guarantee
Choose Various CMS and Pick – Control Panel as per Your Need
Spain Server Hosting is a power of KVM virtualization and next-generation based technologies that boost your business website growth. Onlive Server provides a superior technical team with 24/7 support service. Our network routing has overseen by top Spain ISPs, that never interrupts your communication or transport layer. You can use our servers for multipurpose.
Also, you can see more hosting plans in official website that is onliveserver.com
Order your Spain Server Hosting Now & Save Setup Fee
Contact us now
Skype: ONLIVEINFOTECH