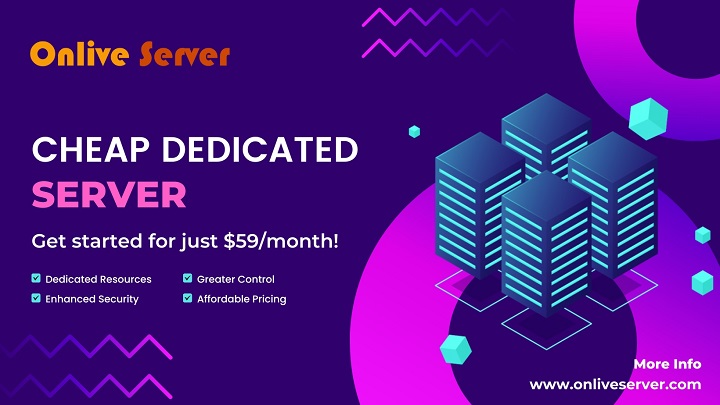 Dedicated Server – Onlive Server
There are millions of web owners and emerging web owners who are in the market for a web name hosting provider. Unfortunately, there are not just a few to choose from. The three basic types of servers are shared hosting, VPS hosting, and Cheap Dedicated Server hosting. This article contains a brief description in plain English. For the description.
Processor / Cores / Threads / RAM / Space
Location
Monthly
Action

France Dedicated Server – DSX1 – Intel Xeon-D 2123IT – 4c/8t/3.0GHz, 32GB RAM, 2x 2TB HDD SATA
Gravelines, France
$110

Germany Dedicated Server – DSX1 – Intel Core i7-2600 – 4c/8t/3.80GHz, 16GB RAM, 1 TB SATA
Kassel, Germany
$69

Hong Kong Dedicated Server – DSX1 – 2x Intel Core i3-4150 – 4c/8t/3.50 GHz, 8GB RAM, 1TB HDD
Hong Kong
$249

India Server – DSX1 – Intel Xeon E3 2136 - 6C/12T/4.50 GHz, 16 GB RAM, 480 GB SSD raid 1
Noida, India
$149

Malaysia Dedicated Server – DSX1 – Intel Xeon E3-1275 – 4c/8t/3.80GHz, 8GB RAM, 1TB SATA
Malaysia
$140

South Korea Server – DSX1 – Intel Xeon L5630 – 4c/8t/2.40GHz, 8GB RAM, 1TB SATA
Seoul, South Korea
$89

Thailand Dedicated Server – DSX1 – Intel Core i7-4790 – 4c/8t/4.00 GHz, 8GB RAM, 500GB HDD
Bangkok, Thailand
$149

Turkey Dedicated Server – DSX1 – Intel Xeon E3-1240– 4c/8t/3.7GHz, 8GB RAM, 2x 500GB SATA
Istanbul, Turkey
$89

USA Dedicated Server – DSX1 – AMD Quadcore – 4c/8t/3.0Ghz+, 16 GB RAM, 1TB SATA
Kansas City, USA
$79
Dedicated Server Hosting Provider
In short, dedicated servers are "dedicated" to a website owner. Imagine a person living alone in a hotel room. He or she does not have to share the bathroom or amenities and can do what he or she wants. This can be compared to France based dedicated server hosting plans by providing website owners with individual bandwidth, storage space, etc. Also, France's dedicated server hosting is not exposed to traffic overload from other websites, which results in faster website functionality. Also, security is less of an issue with dedicated servers because, unlike many others, the specifications can only apply to how a single website works. Dedicated server hosting is the most expensive of the three types of servers.
VPS Server Hosting Plans –
These servers are often viewed as the cross between a dedicated server and a shared server. Using the example of a hotel room, imagine a hotel suite with 2 separate living areas. Even though people are in the same room, they are not as sensitive to the activities of other residents – even if they use shared resources (i.e. bathrooms). In the server situation, there is still a server, but it is divided in such a way that each website receives its own storage space and possibly its own operating system. These types of servers are often sought after by website owners who want greater flexibility without the higher costs associated with upgrading to a dedicated server.
Shared Servers Hosting Plans –
Shared servers, as the name suggests, are shared by a group of website owners. For example, imagine a group of people sharing a hotel room. From an economic perspective, each person will have to pay less for the room than if they had reserved it alone. The same applies to shared service providers. They are usually the cheapest since the cost of running the servers is divided among the group of website owners who will ultimately share bandwidth, storage space, etc., will slow everyone else down. In a shared server environment, there is also the possibility that the website will slow down due to increased web traffic and congestion.
Problem In Performance
One of the biggest problems with shared hosting is due to the slow response of the server. The server is simply a high capacity computer. It accepts requests for the files and makes them available to the web for the user to access and view. Because the server can host multiple sites, other users' traffic can harm the business. If the server has trouble responding, the visitors are the first to suffer. In more extreme cases, the pages may time out or, worse, not load at all. For this reason, the user should always check with a provider to get a rough idea of ​​how many sites are on each server and how much traffic those sites receive.
Can the user believe that shared web host providers offer really good discounts on their already low fees? It's true. With a shared server plan for $ 2 or 3/ month, it's not uncommon to save $ 2-3 a month with discount codes from some of the most reputable web hosts. The Client should check out this valuable discount if the user wants to save money on the web hosting package and still want to experience reliable and secure service.
The work of the best hosting company is to filter packets or data transmission units. The filtered data comes from TCP and UDP traffic. The best hosting company uses better hosting appliances that are well known and reliable. These devices get good competition from Juniper, which is also known and reliable. Some of the well-known Linux firewalls. Windows Firewall is the built-in firewall that comes with the Windows operating system. Hardware firewalls such as Cisco are also very reliable and can be configured on the France dedicated server hosting. The Client needs to take care of the dedicated server when it comes to security as the internet and viruses grow at the same speed as some other problems.
Get A Cheapest Dedicated Server With Full Of Trust
First of all, the user needs to know what a dedicated server hosting Provider Company. A dedicated server means that the user rents an entire server for the needs. The Client doesn't share this server with anyone.
Once the user rented this server, the user can do pretty much anything with it. This is a big advantage as it offers the user exclusivity. The Client can make its own administrative decisions, change the software, and adapt it to the needs. The best thing about it is the total freedom the user has, and the user doesn't have to worry about downtime or its safety. The speed of the cheap dedicated server hosting is fast and the service prompt. Are there disadvantages to a dedicated server?
First, these services are not cheap compared to other web hosting solutions. The reason for this is that dedicated servers are offered by data centers, they have a 24-hour emergency power supply and HVAC systems, so the user has to get this wonderful uptime and pay for it. Of course, the decision is ultimately up to the user whether the user needs this server and whether the additional costs are worth it.
A server is set up within 24 hours of purchase. Your websites enjoy the exclusivity and security that comes with 99.9% availability. If the user thinks the company is ready to jump to a new level, the user needs France Dedicated Server hosting plans. Of course, the user can take it slowly and expand it gradually. The Client can start with the shared service and then slowly convert to a dedicated server as the business grows. However, if the user predicts a lot of traffic or starts a large business that generates a lot of traffic and e-commerce, the user has to go for a cheap dedicated server web hosting. This reduces downtime and the website doesn't crash.
Most dedicated servers have packages that can meet the needs without being extremely expensive. Research the options and then commit to a service. The Client doesn't have to worry about the cost. As with any other e-commerce service the user is considering, the user needs to research the packages, read customer reviews, and then make the decision. It's easy because all the information the user need is online.