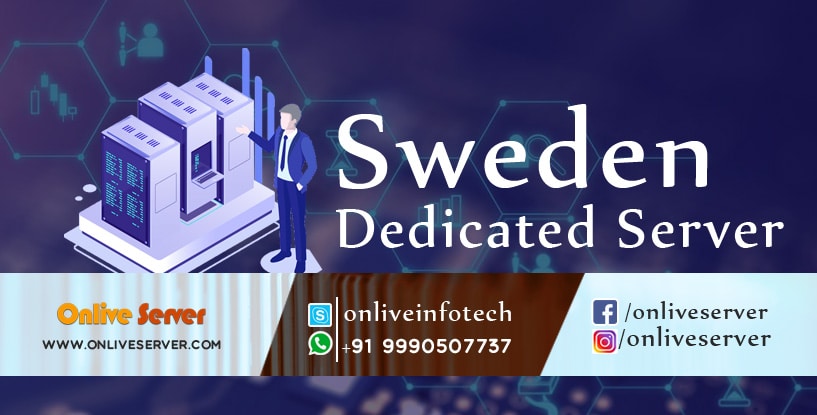 Sweden Dedicated Server Hosting:
Onlive Server offers Cheapest Dedicated Server Hosting that is more flexible than shared hosting, as organizations have full control over the servers, including choice of operating system, hardware, etc. We make sure your website is fast, safe and secure, always up. So every Website owner wants to attract many visitors as possible, your visitors & search engines trust you. In today's business world a dedicated server is one of the most basic requirements for any organization. Its main use is to host the company's websites or the whole enterprise and possess the requisite resources for the task. The storage space and the bandwidth provided by a dedicated hosting server cannot be matched by a shared server. The Sweden Dedicated Server can be considered as the best in this regard and the exclusivity provided by this server is simply great. These servers are usually hack-proof and not attacked by the malwares, spywares and viruses because of the good and effective security provided by the web hosting company.
Processor / Cores / Threads / RAM / Space
Location
Monthly
Action

Sweden Dedicated Server – DSX1 – Intel Atom C2750 – 8c/8t/2.60GHz, 8GB RAM, 250GB SATA +120GB SSD
Sweden
$80

Sweden Dedicated Server – DSX2 – : Intel Core i3-4360 – 2c/4t/3.70GHz, 8GB RAM, 2x 1TB SATA
Sweden
$90

Sweden Dedicated Server – DSX3 – : Intel Xeon E3-1231v3 – 4c/8t/3.4GHz, 32GB RAM, 2x 1TB SATA
Sweden
$150

Sweden Dedicated Server – DSX4 – : Intel Xeon E3-1240v5 – 4c/8t/3.4GHz, 32GB RAM, 2x240GB SSD
Sweden
$180
The fully managed dedicated server hosting includes monitoring of the server, getting software updates, rebooting, security patches and finally operating system upgrades as well. The Sweden VPS hosting servers provide us with ample amount of time to concentrate on the other works while the hosting company handles the server managing demands. So it can be very well seen that how important the dedicated servers are. The firms which hire the services of the dedicated web server are provided with individual server administration add-on tools in the standard deals. So it is understood that one can be at ease even with the standard deals and see the business grow due to the fully manages hosting option.
Processor / Cores / Threads / RAM / Space
Location
Monthly
Action
Additional Features:
Apart from all the features offered in a standard deal the Sweden managed dedicated servers offers few extra features as well. The additional services include the security patches, managed firewalls & load balances, managed backup for optimum facility, virus protection, advanced configurations, control panel software, recovery and telephone based support. This also provides hosting for databases as well.
Watch the Video
These irresistible features allow us to optimize the dedicated server as per our own convenience and streamline all the available resources so that the website can definitely get the best of the services. The availability of all these features will surely help to make a fully dedicated server definitely the best choice for all the organizations.