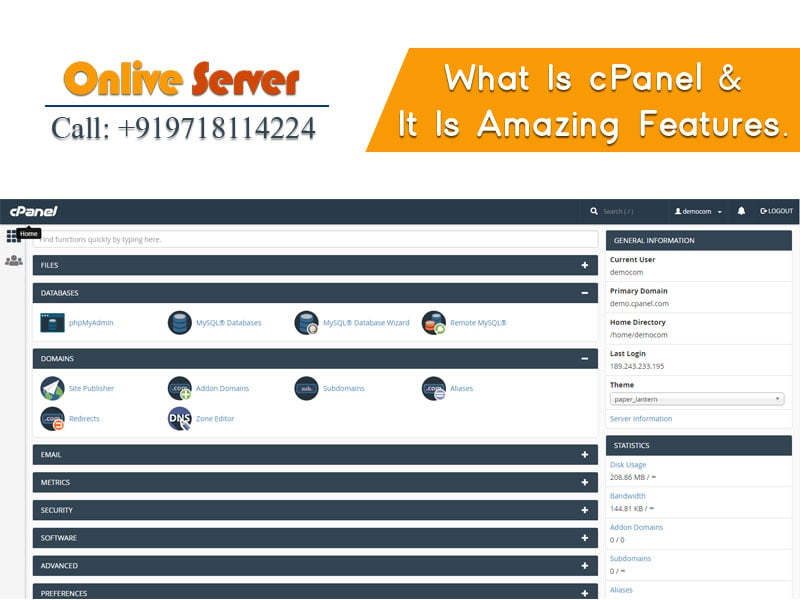 CPanel is the ultimate web-based hosting control panel that provides the hosting providers of the website owner. If you are looking for what is cpanel to design and control the website then here is the best chance to find the right solution. cPanel allows managing the website from the web-based interface. cPanel gives the user with the ultimate graphical interface that efficiently controls the portion of Unix server. cPanel uses the tiered structure allowing to easily access different levels. End users and administrators let the user to easily control the server and website through browser directly. cPanel is normally used for accessing the https on port called 2083 and also simply adding the "/panel" at end of the hostname. Based on the hosting provider, the cPanel have the auto installer and the package dedicated for connecting the management systems. cPanel is the web hosting control panel and widely used across the world for hosting. cPanel is completely based on Linux Operating System that boasts the powerful features yielding more benefits for the end user such as hosting the clients as well as system administrators. cPanel remains as popular since its release 1996. For more than 20 years cPanel have the extensive inherent advantages like user-friendly, feature-rich and many other benefits.
CPanel and its features:
cPanel is the popular control dashboard helping to easily manage the web hosting server with the ultimate human-friendly web-based interface. cPanel is amazingly popular with the shared hosts. Onlive Server is the affordable hosting providers that offer the unique solution for the customers. cPanel allows enabling the technical knowledge for managing the website or servers. With the use of the cPanel, you are completely easily making the changes with the graphical interface without any technical knowledge required. cPanel is the ease of installation and much useful for more number of applications. cPanel requires the Linux system of a minimum of 20 GB disk space and 512 MB of RAM and its better suitable for Cloud VPS Hosting and VPS Server Hosting.
Instant Accessing control:
CPanel is rich in the features and it allows the user to manage the website along with the hosting accounts relatively ease. Users could manage the complex tasks in just a few clicks. Each and every task could be arranged starting from the calculating disk space, site maintenance, making regular backups, searching for web directories and many more. cPanel is easier to use so that most of the small and medium firms. You can save more on labor expenses so that it is easier to hire the expert system administrators. cPanel minimizes the system administrator workload.