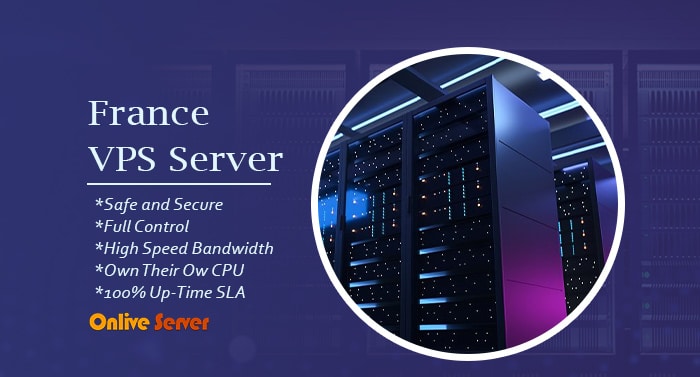 A successful business depends on the reliability of its hardware and software to remain accessible to its customers at all times. However, things can go wrong and disrupt service at any time of day or night; that's why you need top-tier technical support to be there when you need it most, 24/7/365. Onlive Server offers full support as well as excellent uptime, ensuring your business will never have to worry about technical issues again. Contact our team today to set up your France VPS server with unlimited features and our On-Demand level of support.
What is a VPS?
A virtual private server (VPS) is a virtual machine sold as a service by an Internet hosting provider. It is a virtualization of a physical server. Unlike shared web hosting, where multiple customers' websites share the same physical hardware, with France VPS Server, each customer has their own virtualized instance of the hardware. In effect, many customers share their resources, such as bandwidth and storage space.
choose Onlive Server
Onlive Server is one of the leading hosting providers in India offering quality services and facilities. We provide reliable France VPS Server Hosting, Reseller Hosting, Domain Registration Services, and much more. understand that it can be a daunting task to find a reliable web hosting provider when you need to host your business website. We strive to meet all your needs and go out of our way to help you succeed online.
24/7 Tech support
Don't worry about downtime or any kind of technical issue on your France VPS Server. Our trained and certified technicians are available on live chat 24/7 to give you fast, reliable support whenever you need it. We have a 99% uptime guarantee so that we can keep our promise to deliver 100% customer satisfaction. You can get in touch with us through email, phone, or live chat; we will be there when you need us most! In addition to providing high-quality service, we offer great deals on Onlive servers. Whether you're looking for shared hosting plans or dedicated servers, our website has all the information you need to make an informed decision. If you already know what type of hosting solution is right for your business, just choose from one of our three packages: Standard, Pro, and Ultimate.
Reliability
The server cluster is connected to multiple networks, allowing us to provide 99.99% uptime. Should any one of our multiple data centres experience an outage? We can simply route traffic through one of our other facilities in a matter of seconds. We're proud to maintain nearly 100% uptime. And we work hard every day to ensure that your virtual private server will be available when you need it. Our network is monitored around the clock by a dedicated staff. She has been trained to identify problems quickly and resolve them efficiently. Our support team has extensive knowledge about each aspect of our infrastructure. So they can address issues on their own without needing to escalate to another department or outside resource.
Customization
At Server, you have all kinds of server administration options. You get a control panel that gives you everything from dedicated IP addresses to virtual firewalls. So you can configure your servers however you want. All administrative functions come through your secure web interface. Which also lets you connect directly with our expert technicians via live chat or email if you run into trouble. We'll assist with every aspect of your service and make sure. It's up and running at optimal performance levels for years to come.
Security
Our French data centres are guarded by round-the-clock surveillance and armed guards. When you choose Onlive Server as your France VPS Server hosting provider. You benefit from cutting-edge security features to protect you from outside threats and safeguard your sensitive information. We offer full redundancy on all of our servers, which means. What France VPS Server is one of our data centres is ever compromised or unavailable due to an emergency. We'll seamlessly transfer your site over to another of our secure facilities. You can even set up automatic backup services so that any content changes you make will be automatically saved offsite in case anything goes wrong with your primary site.
Conclusion
France VPS Server is a great choice for those who need a reliable and affordable virtual private server. It offers a great variety of features and options to choose from, making it the perfect choice for anyone looking for high-quality service.