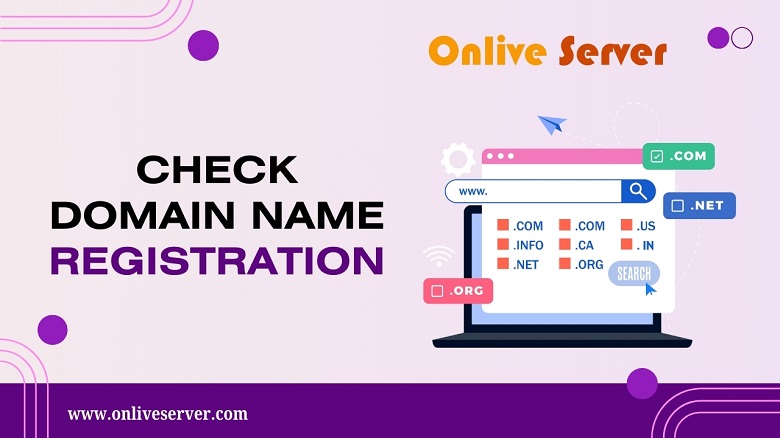 Check Website Domain Registration
Are you planning to create a website for your existing business? This is normal because of the changing nature of present market conditions. Now, coming to brand identity, you need a website domain name to stand out from your online competitors. It needs creativity, skills, expertise, and a few considerations to understand the digital market. On the way to website domain registration, you can experience many difficulties finding a unique domain name. If you want to Check Website Domain Registration for the availability of your desired domain name, walk through this article.  
Domain name registration can be a daunting task for most beginners. Whenever you decide to open a website, you are getting puzzled about selecting a good domain name. But, what's the actual purpose of domain names? Well, a domain name is nothing but your web address that lets your customers find you online easily. But, finding that perfect domain name is what bothers users the most. Sounds complicated? Here are a few considerations you need to check for finding your most applicable domain name before final registration.
See the availability of Top-level domains.
The easiest way you can narrow down your domain name is by considering the available Top-level domains (TLD), including .com, .shop, .org, .net, .biz, and many others. Before choosing a TLD, you need to understand the significance of that particular TLD. For instance, you can choose .biz for your website if it's a business only, whereas .org signifies non-profit organizations. So, choose accordingly to get your favoured name registered.
Use keyword research tool.
You can have tons of keyword suggestions with the help of free keyword research tools like Keyword tool dominator, Google keyword planner, Ubersuggest to generate the most used keywords for getting your domain name.
Look for thesaurus
Keeping the original meaning intact, you can get multiple synonyms of a particular word without any difficulty. Hence, you can get alternate ideas for your preferred domain name in case of unavailability of that particular name and then Check website domain registration.
Get inspiration from competitors.
You can check your competitors' websites with a similar product line to get an idea of creative domain names. Be careful not incorporating the same words used by your competitors. Instead, brainstorm your ideas for more related words.
Add memorable adjectives
If you somehow want your domain name's visuals more attractive, you can opt for significant adjectives before the main name to try something different.
Adjoin an animal's name
These days many brands incline towards adding tricky animals to their brand name for making their brand name identical to others. It's a clever way of inspiring your audience towards your brand name.
Include symbolized objects 
Many brands have already applied the technique of including relevant symbols in their domain name in creating brand awareness.
Use the tactic of spelling variations.
To create an identical domain name, you can jumble up the spelling of a particular word like most popular brands have made. Once you can make your international customers recognized your brand name through proper marketing, there's no look back!
How to get your domain name registered?
A domain name is something that allows users to remember your brand name easily. Your first-ever task will be buying a catchy domain name, which has not yet been registered from a well-known domain registrar. There are countless domain registrars available in the market to give you lists of available domain names and help you out in your crisis. If you can do it your own, go ahead. But make sure your domain name should be SEO friendly to get a good response.
Consider the suffix of your domain name.
Here the suffix refers to the Top-level domain (TLD) such as – .net, .edu, .hiphop, .game etc. Get acknowledged of different TLDs and choose the specific one for your entity. Purchase the most appropriate one considering your domain name and Top-level domain. You need to pay huge amounts in case you choose a highly popular domain.
Get support from web hosting services.
If you don't want to buy domain names, you can get a free domain name from some of the excellent web hosting services that offer free domains for nearly two years. After that, you have to pay fees as per their terms and conditions. Before opting for long durations of registrations, check all the policies and restrictions to eliminate unwanted hazards.
Check the domain contracts carefully.
Once bought a domain name, it's not like you can use this for any unacceptable needs. Before signing a contract, thoroughly Check Website Domain Registration to verify what you are expecting from them. According to the latest rules, most registrars have the authority to alter the agreement or delete the domain name anytime without informing you. There is a high probability of lifting your domain name in case you use the domain name for illegal usage like spamming.
Wait for your turn
After registering your domain name, wait for at least two to seven days to update your domain name with the official registry. Don't fall under the trap of those registrars who promise you an immediate delivery of your registered domain name. If you find your hosting web service not satisfactory, you can transfer your domain name within sixty days of your registration without expecting a refund.
So, you may understand how important it is to have a registered domain name for your website. As soon as you choose your domain name, you are likely to purchase it along with registration so that no one can use it except you.