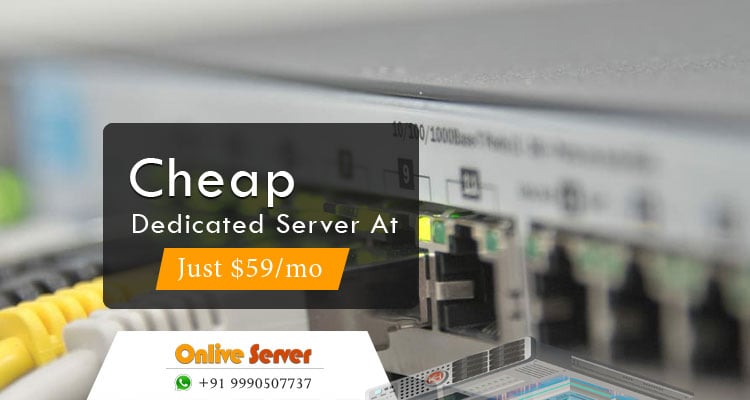 Cheap Dedicated Server Complete Hosting Services:
Our Cheap Dedicated Server Hosting users provide you with complete hosting services, fast performance, reliability, privacy and complete control hosting services on their business site with their key features by Onlive Server hosting company. like this, the complete server is dedicated to the user on a rental basis. There are many advantages associated with such advance Dedicated Server service. This dedicated server provides unique security provisions, thus, the clients will not be required to worry about information leakage. Secondly, it provides good access to choose the operating system (either Windows or Linux) as per the business requirement. If you or customer need customization and support, we offer fully managed services for an extremely low price. This way, you will get the best of web services that help you establish a successful and string online business.
The Cheap Dedicated Server administration can run the site in a considerably quicker and effective way. Further, the completely dedicated servers enable you to refresh, keep up and deal with the site in the best and best way. Accordingly, your site can be overseen in a protected and productive way through the accessible VPS facilitating administration bundles.
Cheap Dedicated Server Plans
Processor / Cores / Threads / RAM / Space
Location
Monthly
Action

France Dedicated Server – DSX1 – Intel Xeon-D 2123IT – 4c/8t/3.0GHz, 32GB RAM, 2x 2TB HDD SATA
Gravelines, France
$110

Germany Dedicated Server – DSX1 – Intel Core i7-2600 – 4c/8t/3.80GHz, 16GB RAM, 1 TB SATA
Kassel, Germany
$69

Hong Kong Dedicated Server – DSX1 – 2x Intel Core i3-4150 – 4c/8t/3.50 GHz, 8GB RAM, 1TB HDD
Hong Kong
$249

India Server – DSX1 – Intel Xeon E3 2136 - 6C/12T/4.50 GHz, 16 GB RAM, 480 GB SSD raid 1
Noida, India
$149

Malaysia Dedicated Server – DSX1 – Intel Xeon E3-1275 – 4c/8t/3.80GHz, 8GB RAM, 1TB SATA
Malaysia
$140

South Korea Server – DSX1 – Intel Xeon L5630 – 4c/8t/2.40GHz, 8GB RAM, 1TB SATA
Seoul, South Korea
$89

Thailand Dedicated Server – DSX1 – Intel Core i7-4790 – 4c/8t/4.00 GHz, 8GB RAM, 500GB HDD
Bangkok, Thailand
$149

Turkey Dedicated Server – DSX1 – Intel Xeon E3-1240– 4c/8t/3.7GHz, 8GB RAM, 2x 500GB SATA
Istanbul, Turkey
$89

USA Dedicated Server – DSX1 – AMD Quadcore – 4c/8t/3.0Ghz+, 16 GB RAM, 1TB SATA
Kansas City, USA
$79
Dedicated Server Hosting General Features:
Basic Managed Services
Enterprise SuperMicro Servers
Multi-homed Network
Redundant high-speed carriers
Redundant power feeds
24×7 Ping Monitoring
IPv6 Available
24×7 on-site security
Access control system for entry
Utilizing Our Cheap Web Hosting company – Dedicated Server Hosting is essential to the success of any online business. With benefits such as a custom firewall, a private IP address, scalable features, Networking Features, and a secure computing environment, companies are able to face the challenges of a highly competitive business environment. Our Cheap Dedicated Server can provide a much higher level of performance, scalability, and security to help ensure a successful enterprise.
Network Features:
Fully Redundant Enterprise Class Network
Juniper/Cisco routers/switches
Noction/Internap FCP Intelligent Routing
High Redundancy and Scalability
Direct connectivity to 4 providers
Local peering to 10 providers
Cheap Dedicated Server -Video

Cheap Dedicated Server Security:
Many advantages of utilizing an Our dedicated server solution is scalability. It also provides assurance that processes such as software updating, monitoring and database, and network administration will be taken care of by professionals, thus minimizing potential downtime and security risks. In addition, the completely dedicated servers enable you to refresh, keep up and deal with the site in the best and best way. The cheap dedicated server gives your site a significantly more grounded security covers in contrast with the web servers. Moreover, Onlive Server Dedicated Server takes the network and hardware security very seriously. We have implemented security into every aspect of our hardware and network with multiple layers of physical security at the respective data centers.
Why do most people prefer a Cheap Dedicated Server for their hosting needs?
When you are in business growth, you must consider where you will host your website. If you run an eCommerce website, you may want to choose a cheap dedicated server. However, if you have been doing this for a while, or if your business is just getting started and requires more features than a shared hosting plan offers, you should consider upgrading to a premium dedicated server.
A dedicated server is expressly set up for one customer's use. It will be designed and built for your specific needs so that it can run efficiently on your hardware configuration. In addition, the hardware is all specialized for your needs and does not have to share resources with other customers. Moreover, the main benefit of buying one of these servers is that they usually come with more RAM and faster storage. They also typically have better networking equipment installed, so there will be fewer problems running multiple websites simultaneously (like when someone tries to access a site while another user uploads files). This type of server has much more power behind it than a shared host server and can handle more traffic without crashing under heavy load.