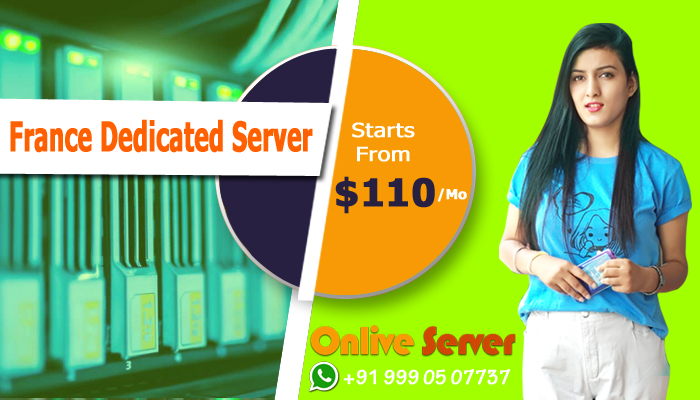 France Dedicated Server – Onlive Server
Onlive Server gives an opportunity to get best Dedicated Server Hosting plans for France location. We provide low-cost server hosting plans to easily host your website with higher uptime and great performance. We designed our server hosting plans based on the latest technology which are fully managed and reliable. You can easily run your demanding applications/sites as our web server. We provide all types of hosting plans for worldwide location: France Dedicated Server Hosting is one of them. Our servers can easily manage your website's traffic and give complete DDoS protection. Our all servers are suitable for every business websites as well as also offer Proxy IP Server, DNS, VPN and proper installation of CMS for Java, Microsoft ASP.NET, Perl, PHP, Python etc.
Processor / Cores / Threads / RAM / Space
Location
Monthly
Action

France Dedicated Server – DSX1 – Intel Xeon-D 2123IT – 4c/8t/3.0GHz, 32GB RAM, 2x 2TB HDD SATA
Gravelines, France
$110

France Dedicated Server – DSX2 – Intel Xeon-E 2136 – 6c/12t/4.50GHz, 32GB RAM, 2x 500GB SSD
Gravelines, France
$139

France Dedicated Server – DSX3 – Intel Xeon-D 2141I – 8c/16t/3.0GHz, 32GB RAM, 2x 4TB SATA
Gravelines, France
$159

France Dedicated Server – DSX4 – Intel i7-7700K – 4c/8t/4.5GHz, 64GB RAM, 2x 960GB NVMe + 4TB SATA
Gravelines, France
$199

France Dedicated Server – DSX5 – AMD Epyc 7351P– 16c/32t/2.9GHz, 128GB RAM, 2x4TB SATA
Gravelines, France
$299
Run your business website properly with France Dedicated Server 
The website plays the major role in generating income and even marketing. If you want to run your site properly, you can utilize France Dedicated Server Hosting.
Our France Dedicated Server Hosting plans comes with Intel Xeon 4 Core processor starting at just $99/month. Here you will get High configuration servers with Intel 2x Xeon E5 with up to 256 GB RAM and many more plans available here. That is great an opportunity for France's user to get Maximum GB RAM with Intel Xeon processor. Onlive Server has own data centers in worldwide location but France's user has nearest data-center available in Gravelines.
Using the dedicated server hosting is the right way to manage your business application or website in an effective manner. When you decide to get dedicated hosting, you can hire the reliable service providers. The team brings you full adaptability and customization. One of the main benefits of hiring a trusted service provider is that they bring you complete authority for selecting the hardware configuration and operating system for the dedicated system. It is a unique feature of Dedicated Server Hosting France that makes it different from other hosting solutions.
Know More Amazing Features of France Dedicated Server:
Full Root Access

Data storage and Backup

unbreakable DDoS Protected Plan

Flexible Payment Plans

99.99% Uptime

Top Scalability

Windows & Linux Based Operating

100% Trustable Service

High Performing

10x ultra-fast Network connectivity
Enjoy affordability
Onlive Server is a platform that offers the exceptional range of hosting solutions and plans at very reasonable rates. The specially developed hosting plans ensure that your business is running smoothly and successfully. The France Dedicated Server Hosting is another popular solution that will bring you numerous benefits. The Dedicated is a new form of a system which will aid you in website hosting. You can utilize this solution for hosting your website and even your Internet business.
Benefits of the best server hosting
The best and reliable service providers will aid you in having the best kind of operating server, enough disc space and increased bandwidth. Dedicated Server Hosting France is equipped with exclusive features to enable you to reboot as well as customize your system as per your needs. Apart from that, it also brings you the data centers with all facilities required for the prompt and proper functioning of your resources. By using a useful and reliable service, you can increase the overall security of dedicated space. It also eliminates the worries regarding the advertisement and product of the brand website. The efficient solutions also avoid security threats.
Here you will get a powerful server that can be seen in the price section. Check out our hosting plans in our official website onliveserver.com or cheapvpsfrance.com
Don't miss a chance!!!! Buy your own server right now! Call us or you can Live Chat with us.