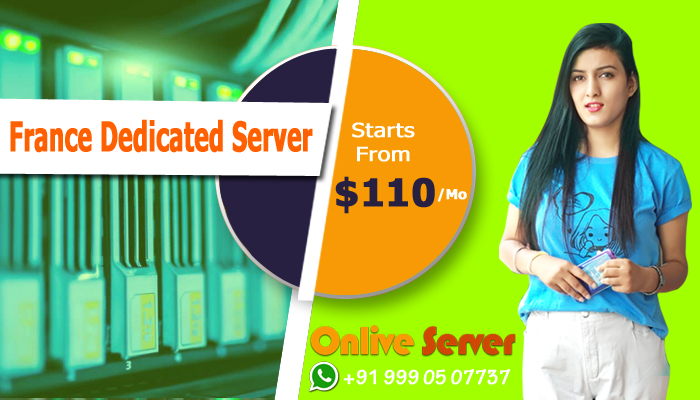 Cheap France Dedicated Server Hosting
Buying right France Dedicated Server Hosting platform is probably one of the most important decisions that every businessman takes. This is because of the availability of a number of hosting service providers as well as various types of web hosting platforms. According to business requirements, every individual wants a secure dedicated server at the very cheapest price. Onlive Server is most popular for the best Server Hosting services provider for worldwide location. Our all dedicated servers are protected by powerful DDoS protection and comes with additional software security, be faith in our services. We are also providing reliable Dedicated Server hosting for France's location. Want amazing France Dedicated server hosting plans then you are the right place, Onlive Server give an opportunity to take amazing advantages of France based Dedicated Server plans that's why you will get pre-install Cpanel, Proxy IP Server, DNS, and VPN. That is perfect for Application hosting / mail hosting / VoIP / Database & backup.
Processor / Cores / Threads / RAM / Space
Location
Monthly
Action

France Dedicated Server – DSX1 – Intel Xeon-D 2123IT – 4c/8t/3.0GHz, 32GB RAM, 2x 2TB HDD SATA
Gravelines, France
$110

France Dedicated Server – DSX2 – Intel Xeon-E 2136 – 6c/12t/4.50GHz, 32GB RAM, 2x 500GB SSD
Gravelines, France
$139

France Dedicated Server – DSX3 – Intel Xeon-D 2141I – 8c/16t/3.0GHz, 32GB RAM, 2x 4TB SATA
Gravelines, France
$159

France Dedicated Server – DSX4 – Intel i7-7700K – 4c/8t/4.5GHz, 64GB RAM, 2x 960GB NVMe + 4TB SATA
Gravelines, France
$199

France Dedicated Server – DSX5 – AMD Epyc 7351P– 16c/32t/2.9GHz, 128GB RAM, 2x4TB SATA
Gravelines, France
$299
Our France Dedicated Server comes with Intel Xeon 4 core processor at just $99/month. We help to protect your website from Malware attacks, control spamming and also guarantee maximum security for your website. Here user will get the freedom to add-on computing resources like RAM, SSD and more according to needs which helps the website run quicker and allows the huge amount of traffic. Your website never faces downtime problems as well as any server issues. If we talk about Shared Server Hosting, here multiple customers use the same server & share resources, that is the main cause of downtime problem. So, prefer our Cheap France Dedicated Server Hosting without any downtime problems. Our hosting plans permit you to control your server in a more stable and secure way. Our Online Dedicated Server France based on latest technologies and next generation based that enables the work quickly to load high websites and increased level of security, scalability, and speed. We ensure to give 100% SLA network uptime, IPv4 & IPv6 support, full root access, data backup guarantee. You can choose any Operating system like CentOs, Ubuntu, Windows, Linux, Fedora etc.
Reliable Dedicated Server France
Onlive Server delivers reliable dedicated servers with a stable and safe environment hosting for web applications. Our Free technical support team manages your all the issues regarding the hardware maintenance, network connection, and server issues. We have own data centers in a worldwide area but Paris is the nearest data center for France users.
if you are fresher in web hosting industry and still confused which plans of our France dedicated server is suitable for your website So, firstly ask to yourself what kind of website you have complex or smooth, and think about your requirements. Basically our France Dedicated Server all plans can handle your workload smoothly, choose according to your budget. Here also custom plans available at the very cheapest range.
Get complete benefits of our hosting services, you can buy immediately France Dedicated Server Hosting plans online.
Our official site (onliveserver.com) has an amazing collection of the web server hosting plans which are available in your budget.
Have any query!
Call, Email, Live chat & Skype – ONLIVEINFOTECH