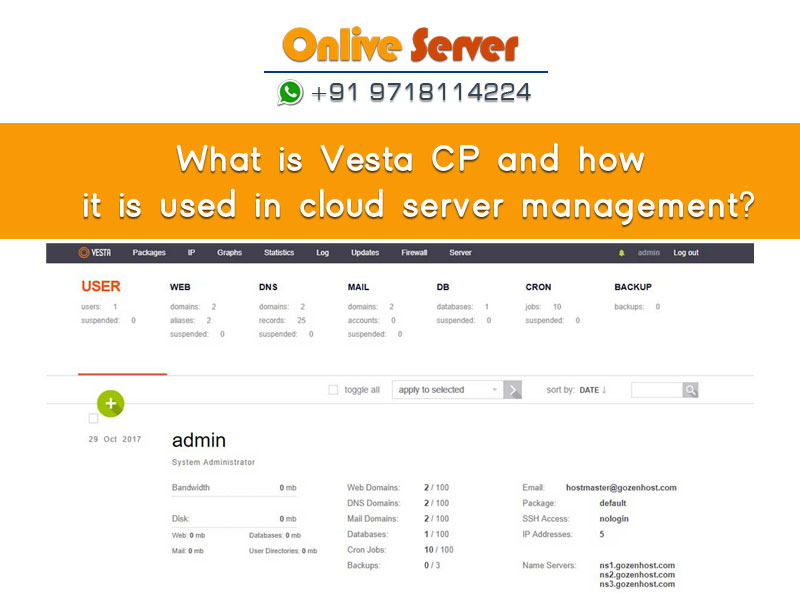 Web hosting CP (control panel) brings an effective user interface for managing the hosting through web-browser. You can know what is Vesta CP , how  install vestacp centos 7  and its role in managing a cloud server. Working with the best control panel surely makes administration, installation, vestacp nginx config and deployment processes much simpler. Additionally, it also helps to automate many processes as well as save time. When it comes to VestaCP, it is the open-source control panel which is available for free. The main function of this control panel is to represent a clear and simple user- friendly design. Even though VestaCP does not bring in-depth control or enterprise-like features, it focuses on an easy minimalistic usability of various significant web-panel features.
Major features
Vesta CP is equipped with the best range of features including:
License on GL
Clean and simple graphical UI (User Interface)
DKIM support
Auto update
Antivirus/ Antispam
Fast vestacp backup
System monitoring and SSL certificates
This panel also has better support forum as well as a growing community around it. The open-sourced control panel comes with few 3rd integrations and plugins. Another important thing about this panel is it is very lightweight. This feature makes it probable to deploy this panel on the low-memory VPS.
Manage your cloud server by using VestaCP
In simple words, VestaCP is good in its features and simplicity. When you decide to use a user-friendly and free web-panel, then first of all you have to know What is Vesta CP and how it work as well as if you buy cheap VPS Windows or Cloud VPS Hosting service and want to manage your Linux server, you can hire Onlive server. VestaCP is a right tool for managing your Linux server. Most significantly, it appears as a free substitute of Plesk or cPanel. Another significant thing about this control panel is that it brings an effective graphical user interface via that the hosting server provider can manage and deploy the services quickly.
The best kind of control panel also helps to deploy your web servers. The installation process of default VestaCP installs the Database Server, FTP Server, Mail server, DNS server and Web server. The server hosting providers have the precise skills to host various domains. Apart from that, they also install the SSL certificates through this open-source control panel. It configures SPF and DKIM for the encryption and authentication in the Mail server. It is fast because it only uses the responsive user interface. Apart from that VestaCP comes with nginx web server that is well-known for its overall speed. Moreover, VestaCP uses minimal CPU and RAM space, so you can install it on any server easily.