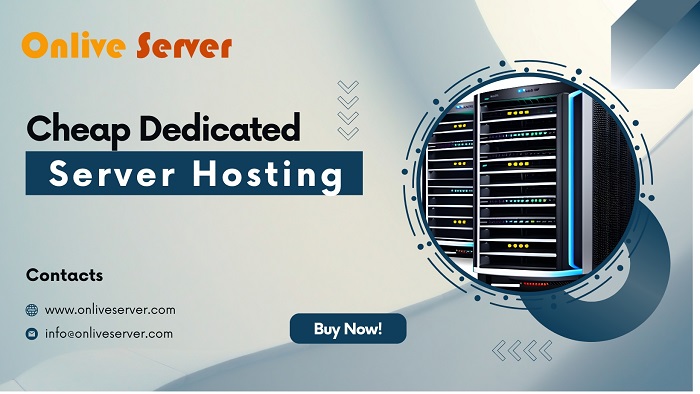 If your business is growing every day and your E-commerce websites are getting a lot of traffic and taking a long time to load, it's time to upgrade your hosting plans or resources. The web host offers different kinds of hosting, such as shared, SSD, and VPS. You can choose the one that works best for your online store. Still, if these plans don't work for your E-commerce site, you can think about the highest level of web hosting, Cheap Dedicated Server. A Dedicated Server is a type of web hosting that only one client can use at a time. Cheap Dedicated Server Hosting is a full-featured web host that gives you a lot of exclusive benefits and cutting-edge features. You can use it to change your plans or manage the information on your E-commerce site.
You can learn important things from this guide. So, it's clear why the Managed Dedicated Server from Onlive Server is the best choice for your E-commerce site.
Processor / Cores / Threads / RAM / Space
Location
Monthly
Action

France Dedicated Server – DSX1 – Intel Xeon-D 2123IT – 4c/8t/3.0GHz, 32GB RAM, 2x 2TB HDD SATA
Gravelines, France
$110

Germany Dedicated Server – DSX1 – Intel Core i7-2600 – 4c/8t/3.80GHz, 16GB RAM, 1 TB SATA
Kassel, Germany
$69

Hong Kong Dedicated Server – DSX1 – 2x Intel Core i3-4150 – 4c/8t/3.50 GHz, 8GB RAM, 1TB HDD
Hong Kong
$249

India Server – DSX1 – Intel Xeon E3 2136 - 6C/12T/4.50 GHz, 16 GB RAM, 480 GB SSD raid 1
Noida, India
$149

Malaysia Dedicated Server – DSX1 – Intel Xeon E3-1275 – 4c/8t/3.80GHz, 8GB RAM, 1TB SATA
Malaysia
$140

South Korea Server – DSX1 – Intel Xeon L5630 – 4c/8t/2.40GHz, 8GB RAM, 1TB SATA
Seoul, South Korea
$89

Thailand Dedicated Server – DSX1 – Intel Core i7-4790 – 4c/8t/4.00 GHz, 8GB RAM, 500GB HDD
Bangkok, Thailand
$149

Turkey Dedicated Server – DSX1 – Intel Xeon E3-1240– 4c/8t/3.7GHz, 8GB RAM, 2x 500GB SATA
Istanbul, Turkey
$89

USA Dedicated Server – DSX1 – AMD Quadcore – 4c/8t/3.0Ghz+, 16 GB RAM, 1TB SATA
Kansas City, USA
$79
Why Managed Dedicated Hosting is best?
Managed Dedicated Server is a type of remote hosting in which the web host takes care of all the server tasks, such as Setup, administration, support, or full management of your E-commerce website. The resources and services can only be used by the people who need them. It means that the data for your E-commerce website can be kept on a server by itself and won't be affected by problems that can happen when data is shared. Aside from that, it gives you a lot of reliable and scalable resources, and you can even upgrade your dedicated resources if you want to. Managed Dedicated Server also gives you high security, proactive support, auto-scaling, bandwidth, file storage, and much more. It also has everything a business could want in terms of features and benefits. So, the best place to handle the data for your E-commerce
Cheap Dedicated Server Pros
As the name suggests, Managed Dedicated Server gives you fully managed and dedicated services. It has a lot of essential and high-quality benefits, as well as customer-focused support. So, we made a list of the unique advantages of Cheap Dedicated Server Hosting for managing the data on your E-commerce site. It is made up of:
With the best software and hardware specs, Dedicated Server gives you a huge Hard Disk Drive (HDD) and Drive (SSD) with less redundancy to speed up the time it takes for your web pages to load and give you Extreme Performance.
• A dedicated server is guaranteed to be online 100% of the time because it is constantly being watched and has backup cooling systems and emergency generators.
• It gives you expert and proactive support 24 hours a day, seven days a week, 365 days a year through Live Chat, phone, Skype, Whatsapp, and a ticket system.
• Dedicated Server Hosting makes it easy to manage the data on your e-commerce site because it gives you full SSH access and control at the root level.
• If your E-commerce site has Uncapped Bandwidth, you don't have to worry about how many people visit it.
• Full Root & Shell Access (SSH) gives you full control over the server so you can manage and set it up to meet the needs of your e-commerce website.
With the above high-quality benefits, you can enjoy the unique benefits of Cheap Dedicated Server for easy management of your E-commerce business data. So, you can organize your data and information in a way that makes sense. Now you can see why your e-commerce site should be hosted on a dedicated server.
Our Dedicated Server Israel includes:
Choice of Operating Systems.
CPU Options.
Network Performance.
Branded Hardware
99.9% uptime SLA.
Web Based Control Panel for Easy Management.
Essential Technical Support.
24/7 Qualified Customer Care – Live Chat, Call, Skype and Email.
24/7 Server Monitoring Physically.
Additional IPs
Anti- DDOS.
Bandwidth
If you want to buy a dedicated server, choose Onlive Server.
To run a successful online business, you need to find a good web host. So, before you choose the best Cheap Dedicated Server Hosting provider, make sure your E-commerce website gets the best services and support your company has to offer. Using the Onlive Server Cloud Data Center, you can manage your E-Commerce website in one place. This is because it gives you more server flexibility, helps you manage your IP reputation, gives you proactive security, full root shell control, unlimited bandwidth, and many other benefits for running E-Commerce sites. So, people think it's one of the best web hosts for your E-commerce business.
Conclusion
The best and easiest way for your e-commerce business to keep data safe is to use cheap dedicated server hosting. It might be a little more expensive than other web hosting, but it cuts down on all the management tasks and problems that affect uptime, speed, and website performance. When you buy the cheap Dedicated Server Romania hosting package from Onlive Server, they will help you set up your e-commerce site by installing security software patches and giving you technical support 24 hours a day, 7 days a week. It will make you more likely to keep your E-commerce site's data running smoothly and well.