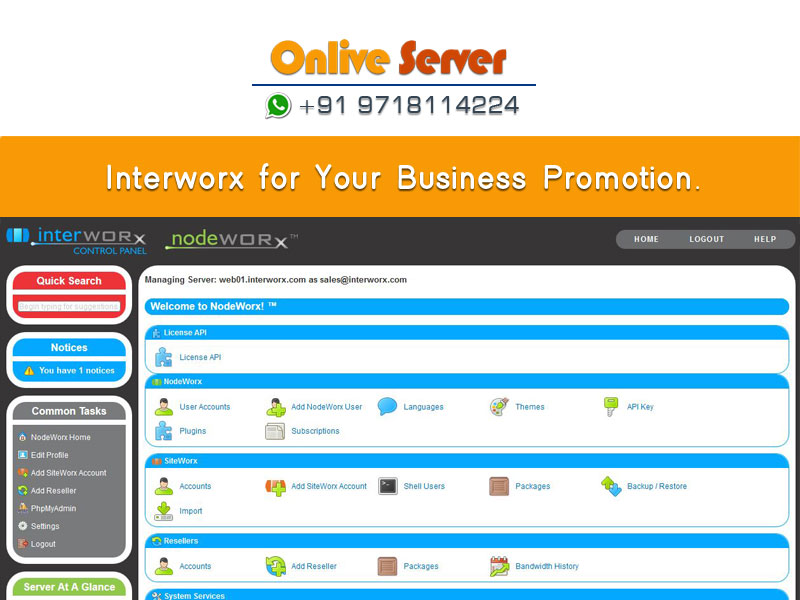 Are you searching for the best control panel to get maximum control and functionality? InterWorx is the best choice but before going to choose this option you should nderstand what InterWorx is. It is the powerful great control panel for servers. Most importantly it will make life simpler. It is the best choice available for server administrators as well as website users. In addition to this, you can also get regular CPanel Features. On the other hand, it allows you to get separated access for users as well as admins even plays important role in billing integrations. Overall it is the developer-friendly control panel. Unlike any options, nterWorx specializes in offering server clustering. Apart from that, it can be helping to make your system architecture scalable, flexible and reliable. InterWorx also comes with advanced graphics, in general, the single interface supports for easy server management. In addition to this, interworx offer great scalability for the load balancer. However, it is the best hosting control panels for you to meet your exact needs.
Why People Choose Interworx?
Now most of them utilize the benefits of InterWorx Hosting Control Panel. It is the perfect hosting and Linux server management solution that eliminates all the complications. If you need to get maximum control you must approach Onlive Server to get best solutions at a reasonable rate. Before that, you must compare online reviews and other aspects related to this option to make the perfect decision. Even it also features rich for both website administrators and system administrators. Normally, this application is divided into two different interfaces that include SiteWorx and NodeWorx. NodeWorx can be utilized by the server administrators, of course, it is important to manage a server. InterWorx is the Linux based server as well as effective Cheap VPS Web Hosting Control Panel.
Benefits of Choosing Interworx:
SiteWorx is utilized by the website owner. It is important for managing a particular website. Usually, NodeWorx interface includes the functionality for web hosting resellers to ensure complete security also supports for managing different SiteWorx accounts without any omplications. InterWorx cPanel has the ability to do different jobs better. First of all, it has fast installation speed when compared to cPanel. In addition to this, you can get ultimate control of maximum output while using this option. With this control panel, you can easily control server functionalities and other factors. Even it comes with intuitive nature as well as a modern interface so InterWorx can be the best choice for your business.