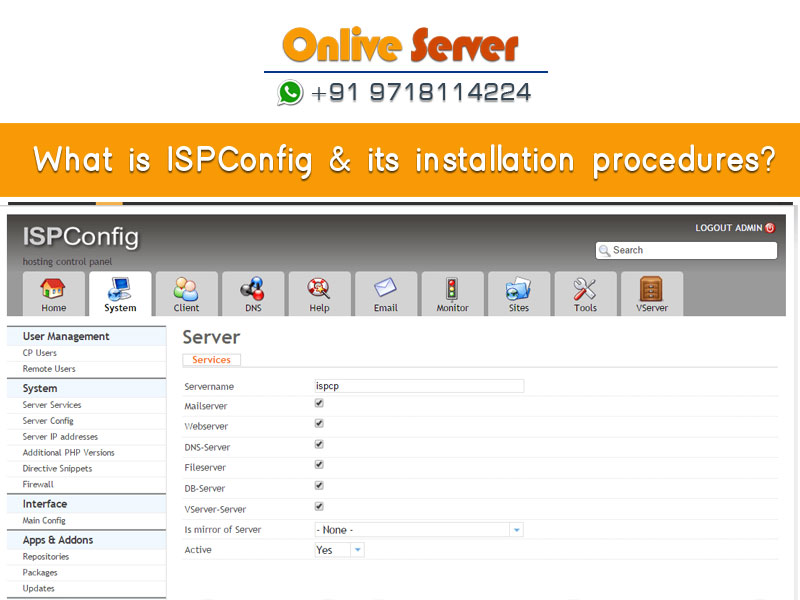 ISPConfig is an IPS hosting and management control manages that allows you to manage several servers easily. It is useful to understand what is ISPConfig before using this control panel. There are many control panels available now, but few of them get more fame among people due to its unique and effective features. ISPConfig is a specialized control panel that has some specialized features to manage several web servers, BIND DNS server, mailservers, MySQL databases, FTP servers and others. It uses a simple to use webinterface to clients, administrators, and resellers. You can also use this open source hosting control panel to manage the Linux Web Hosting  servers in both multi-server and single-server environments.
What are the major features of ISPConfig?
Management of web server for Nginx and Apache
Manage several services from a single control panel
DNS server management
Management of mail server
Configuration clusters and mirroring
Virtual server management process for the OpenVZ Servers
Client, administrator and reseller login
Guide to install ISPConfig
As the free open-source control panel tool, it let you administrate your sounds as discovered in remaining programs such as cPanel as well as Plesk . Apart from that, it let resellers to manage various accounts on various virtual or physical servers. It is significant to know that ISPConfig simply runs on the Linux servers. When you download the control panel, you can follow these steps to install it properly. It includes
A Linux system
Sudo/Root access
MySQL
PHP 7
Major system requirements for the ISPConfig
It is essential to know that the system needs for this control panel actually covers many Linux flavors. It includes:
Ubuntu 8.10 to current
Debian 5 through 9
OpenSuSE 11.1 to current.
CentOS 5.2 to current
Fedora 10 and 12 to 15
Process of Linux Installation
The installation is ideal for your Linux platforms such as centos , Debian . Due to this, the versions come with their own installation procedures. In fact, the installation procedures are not simple when compared to creating a solo website. Rather than getting the ISPConfig up as well as running will take attention and patience to important details of instruction. If you want to ensure that the ISPConfig tools properly run, you will require having the subsequent platforms successfully installed earlier. It includes PHP, Dovecot, BIND, PureFTPD, Apache and more. It is essential to install these tools parallel to the control panel for your server to properly run. Onlive Server is a Server Hosting Provider that comes with lots of hosting packages that feature Linux. It helps you to avoid various hosting hassles.