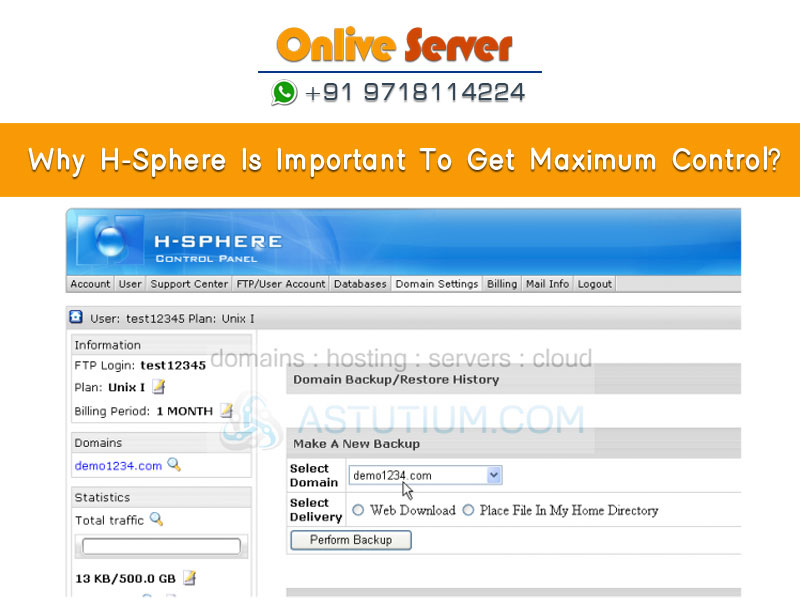 H-Sphere is one of the most powerful Webhost control panel, to get maximum control and security related to different administration areas you just consider this wonderful option because that you should understand what is H-Sphere. H-Sphere widely utilized due to its exclusive features. First of all, it will sacrifice focus apart from that it is also ease-of-use over-engineering. Most important is that it is easy to install H-Sphere and it is the effective Clustered Shared Hosting Management software that brings exclusive benefits. However, it works with multiple hosting types and plays important role in the email management. Integrated PHP or MySQL highly helps you to get maximum control and allows you to get unique experience.
Why H-Sphere:
H-Sphere supports Unix, Windows as well as Linux-based hosting so it can be the best choice for the different environment. Apart from that H-Sphere designed to offer Dedicated Hosting Servers with some unique features. Especially it allows you to get full control over the server; even you can easily control the operating system as well as any applications. H-Sphere is the best Windows Web Hosting Automation Control Panel than any other options; it is the shared web hosting services mainly available to offer powerful benefits. Now it can be utilized by many individuals and business to meet their exact needs. Of course, it can work well with MySQL, Microsoft SQL, PostgreSQL Server databases. Even H-Sphere has been written in Java so it can easily work with any SQL-compliant database. So utilize this effective choice to overcome all the complications involved in the administration areas.
Benefits Of H-Sphere:
It is the scalable multiserver cluster. Overall it can be managed from one control panel even servers also added on the fly. Apart from that multilingual support includes Russian, English, Italian, Spanish, French, Portuguese (Brazil), German, Dutch and many other languages. Normally, webmasters prefer to choose H-Sphere to cover their exact needs. Even advanced users also utilize these effective options. Most importantly, H-Sphere is the most recognized choice for end-user. There are different features available including mail system, SSL, site building tools and many others. On the other hand, It provides a place to other panels and Cpanel Functions. Before going to choose H-Sphere you need to take the online reviews as well as you must approach the best compared to get proper advice and service solutions to cover all your needs. Overall, it is the favorite control panels among others that support to improve maximum functionalities.