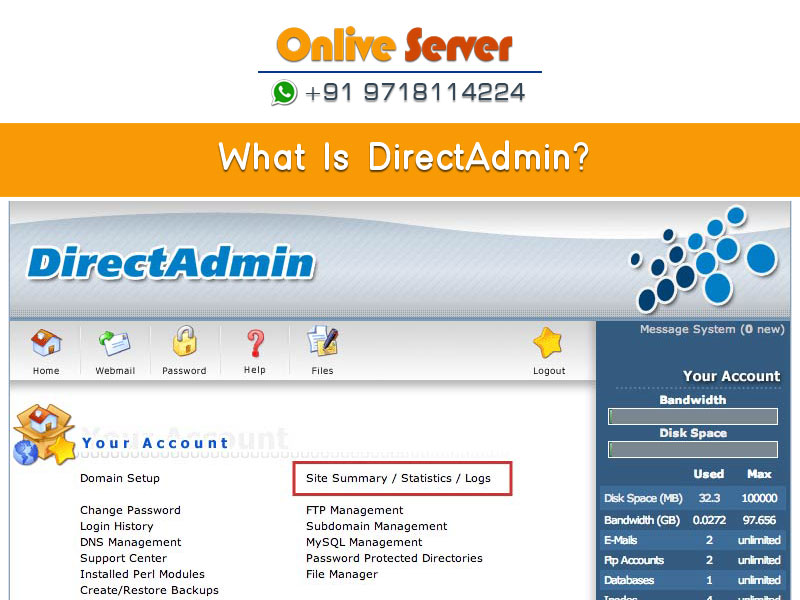 DirectAdmin web hosting control is a famous web hosting software which is the same as that of Cpanel. This control panel software will let you to easily administer your site & hosting options by making use of the web-based graphical interface. With the aid of this software, you can easily manage plenty of email accounts, websites etc. DirectAdmin is quite helpful in automating your task so that web servers can be shared easily and offer website owners with the best means to quickly establish & manage websites. The interface has numerous special features in terms of resellers and server administrators. This program runs on Linux or Windows Web Hosting system.
Features Of DirectAdmin
Manage DNS
Helps in creating & managing FTP user accounts
Helps in creating & managing email address
View statistics
Managing MySQL Databases
Helps in managing FrontPage Extensions
Helps in creating & managing subdomains
Establishing error pages
Useful in uploading & managing a file by utilizing file manager
Backup & restore website files & account data
Establish directory password protection
Set-up cron jobs, install SSL certificates as well as other advanced tools.
Benefits Of DirectAdmin
Web hosting environment is evolving constantly. DirectAdmin stays updated with recent sophisticated solutions. Global clients and trends feature requests are continuously analyzed and ideas are taken into practice. Onlive Server is pride in offer DirectAdmin Hosting with new technology, security, and stability. Easy to set-up & manage plenty of websites. The control panel of DirectAdmin is of low cost & regarded as one of the most famous control panel tools for web hosting among business professionals. It has all kinds of feature which is quite useful for you to establish a site using shared hosting.
Why Consider DirectAdmin?
Ease of use: DirectAdmin is the simplest and easiest control panel software to use for hosting purposes

Speed: This control panel software is programmed in such a way that it is the fastest operating control panel available.

Support: This tool offers high-quality support by providing you the answer which you want

Stability: DirectAdmin Control neglects the downtime by automatically regaining from crashes

Price: This software comes with flexible pricing option to suit the needs of the hosting company
Thus, you might have got detailed information for your query what is DirectAdmin and Direct Admin Software? This control panel software is best among other solutions because of its enormous features and exciting solutions.