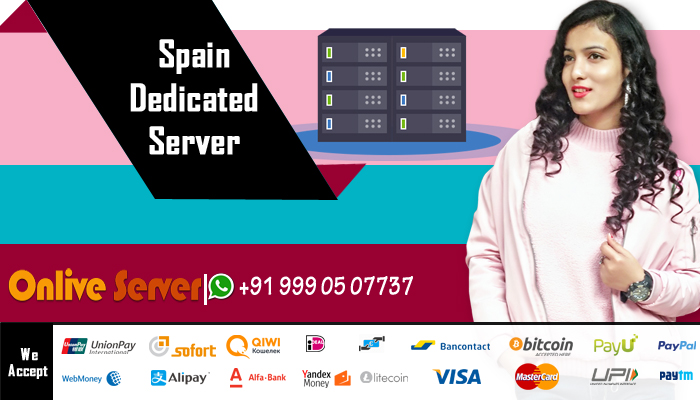 We know that security and stability are critical to you and your customers, so we provide our clients with the best fully managed solutions and DDoS protection available today. We understand your business, so we can give you the best hosting services you can affordably buy. Whether you're looking for a reliable and affordable Spain Dedicated Server or want to take advantage of fully managed solutions and DDoS protection, Onlive Server has everything you need. For instance, give us a try right away!
Introducing the Spain Dedicated Server
Do you want a fast and reliable server close to your target audience? You've found it. The Dedicated Server Spain features high-performance hardware, and our in-house IT team will be available around the clock to handle any issues that arise. Located in Madrid, this new server provides excellent connectivity and provides 24/7 monitoring, DDoS protection, and more. You also get fully managed services for hosting, storage, and bandwidth requirements. In addition, we offer DDoS protection as part of this package, so your site is always online no matter what!
What are the Benefits of Using a Spain Dedicated Server?
A Dedicated server in Spain is ideal for a company that needs the ability to scale up or down as required without worrying about the impact on other servers. This means you can customize your server to suit your needs better, whether for higher performance or greater security. In addition, because an IT professional ultimately manage each server, you don't need to worry about any of the day-to-day management of your server, and it will be protected from any denial-of-service attack.
Finally, a dedicated server usually comes with higher customer support, so you can rest assured that any problems you have will be quickly addressed. It can offer improved uptime and reliability compared to a shared hosting solution. Since your site is the only one hosted on the server, there's no risk of another user's traffic affecting your own. This can be critical for businesses that rely on their website for sales or other vital functions.
What Services are Included in our Fully Managed Solutions?
Our fully managed solutions include everything you need to run a successful business. You will have 24/7, 365 days per year access to the server so you can keep an eye on your data and make changes as needed. We also offer software like Plesk, cPanel, and WHM that makes it easy for you to manage all your servers without any technical knowledge. All of these features come standard as part of our services.
– 24/7 monitoring of your server
– Daily backups of your data
– Security updates and patches
– Performance optimization
– Unlimited help from our team of professionals
How Does our DDoS Protection Work?
Our fully managed solutions include everything you need to run a successful business. We also offer software like Plesk, cPanel, and WHM that makes it easy for you to manage all your servers without any technical knowledge.
Our company has a wide variety of solutions to offer our clients in terms of DDoS protection. We have several layers of security, all of which are designed to work together to keep your website or application online and accessible, even in the event of a major DDoS attack.
Our first line of defense is our web application firewall (WAF), configured to block known wrong IP addresses and malicious traffic before it ever reaches your server. We also have a network-level DDoS protection system that monitors traffic in real-time and blocks any suspicious or malicious activity.
How to Get Started with Your Own Spain Dedicated Server Today
If you're looking to get started with the best affordable and Cheap Dedicated Server hosting. There are a few things you'll need to do first. The quick list of what you must accomplish is as follows:
1. Choose your hosting provider. There are several great Spain-based hosting providers to choose from. So, take some time to research your options and find the one that best suits your needs.
2. Select your server specs. You'll need to decide on the right specifications for dedicated servers. This includes CPU type, memory type, storage type, and more.
3. Set up your server. Once you've chosen your hosting provider and selected your server specifications, it's time to set up your server. This process will vary depending on your provider. Still, in general, you'll need to select a location for your server, choose a domain name, and install any software or applications you need.
4. Start using your server! Once everything is set up, you're ready to start using your Dedicated Server. Be sure to put it to good use by hosting high-quality content and providing stellar service to your visitors.