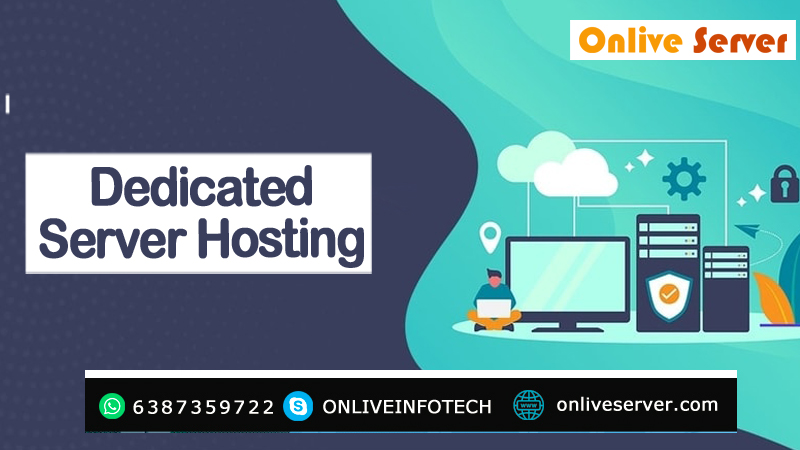 Intro Of Dedicated Server Hosting at Onlive Server

For the forthcoming and existing Onlive Server customers who require assets past what we offer on our least expensive web facilitating plans, we offer a dedicated server hosting arrangement. Dissimilar to the foundation for our best and ordinary arrangement bundle, which exploits containerization innovations to allot and auto scale server assets in a perform insect and secure design, locales facilitated on committed servers are single-inhabitant and have unbound admittance to the full assets of the server.
As well as being valuable for huge, high-traffic Wardress sites, committed server have are additionally advantageous for destinations hoping to get a flood in rush hour gridlock. In the two cases, our group is prepared to assist you with provisioning a committed server that addresses your issues.
What Is a Dedicated Server Hosting?
Since onlive server utilizes an exceptionally tuned facilitating stack fueled by Google Cloud Platform most of Wardress sites will run as expected on our least expensive committed server plans. Now and again, exceptionally high-traffic destinations that can't utilize page reserving or require very undeniable degrees of CPU and RAM utilization might require extra assets.
Pick the Cheap Dedicated Server Hosting Plan
Processor / Cores / Threads / RAM / Space
Location
Monthly
Action

France Dedicated Server – DSX1 – Intel Xeon-D 2123IT – 4c/8t/3.0GHz, 32GB RAM, 2x 2TB HDD SATA
Gravelines, France
$110

Germany Dedicated Server – DSX1 – Intel Core i7-2600 – 4c/8t/3.80GHz, 16GB RAM, 1 TB SATA
Kassel, Germany
$69

Hong Kong Dedicated Server – DSX1 – 2x Intel Core i3-4150 – 4c/8t/3.50 GHz, 8GB RAM, 1TB HDD
Hong Kong
$249

India Server – DSX1 – Intel Xeon E3 2136 - 6C/12T/4.50 GHz, 16 GB RAM, 480 GB SSD raid 1
Noida, India
$149

Malaysia Dedicated Server – DSX1 – Intel Xeon E3-1275 – 4c/8t/3.80GHz, 8GB RAM, 1TB SATA
Malaysia
$140

South Korea Server – DSX1 – Intel Xeon L5630 – 4c/8t/2.40GHz, 8GB RAM, 1TB SATA
Seoul, South Korea
$89

Thailand Dedicated Server – DSX1 – Intel Core i7-4790 – 4c/8t/4.00 GHz, 8GB RAM, 500GB HDD
Bangkok, Thailand
$149

Turkey Dedicated Server – DSX1 – Intel Xeon E3-1240– 4c/8t/3.7GHz, 8GB RAM, 2x 500GB SATA
Istanbul, Turkey
$89

USA Dedicated Server – DSX1 – AMD Quadcore – 4c/8t/3.0Ghz+, 16 GB RAM, 1TB SATA
Kansas City, USA
$79
Dedicated Servers for High-Traffic Sites
Sites on a Dedicated Server Hosting have full admittance to the entirety of the servers' CPU and RAM. This implies the quantity of PHP laborers on a devoted server facilitating can be customized to a site's particular requirements. Moreover, sites on devoted servers can exploit server assets for handling computationally-weighty MySQL questions, PHP format code, and the sky is the limit from there. For high-traffic destinations with heaps of uncatchable movement, devoted assets can be colossally useful.
Devoted Servers for Temporary Traffic Surges
Our devoted server arrangement is likewise an extraordinary decision for destinations that are anticipating a deluge of traffic later on. For instance, on the off chance that you're at present on a Business 1 arrangement and you have plans to show a Super Bowl promotion in half a month. You should increase your Wardress facilitating plan to guarantee your site doesn't go down because of a traffic flood.
Numerous Server Locations
Our servers are situated in various areas all around the world so you can pick a server farm area that is closer to your main interest group. Site stacking speed is the main element to be viewed as with regards to positioning in web crawlers. Furthermore stacking velocity of a site exceptionally relies upon the server area.
Security
This is the most alluring property of committed facilitating. All crucial sites are facilitated on committed servers that assurance complete security. Committed servers empower limitless managerial access for the establishment of safety programming applications. It likewise works with simple updates and security fixing for consistent assurance and forestalls any unapproved interruption. That could end up being destructive to the site's indispensable information.
Step by step instructions to Check Dedicated Plan on OnliveServer
In the event that you're keen on buying a devoted server on onlive server. The principal thing to do is assemble a few information. Since devoted servers set aside effort to arrangement and set up. It's basic to contact our group and start the interaction as soon as could really be expected.
On the off chance that your site is now facilitated on onlive infotech. Our group will need up to 3 work days to design the committed server later you endorse our statement and pay for the main month of administration. Following the arrangement interaction, our group will facilitate with you to move your site holder to the committed server.
Assuming your site isn't host on onliveinfotech, we necessitate that you connect with our group to begin the conversation around fourteen days preceding when the site needs to go Buy Dedicated Server. This guarantees there is sufficient time for our relocations group to move your site to onlive server. And for DNS to spread all over the planet.
Does most approaching traffic show up at a particular page?
What is the greatest number of simultaneous clients you are expecting during top use?
What is the normal number of site hits per guest you expect during top use?
How might you portray your site? Is it fundamentally an eCommerce site? Do you offer a web-based course? Is it an enrollment site?
Is your site a standard Wardress establishment or is it a Wardress multisite establishment?
Assuming you have any extra data you figure we ought to know about while deciding the size of the server you will require, if it's not too much trouble, let us know.
For instance, on the off chance that you run a great deal of long-running import murmur occupations or require exceptional server bundles, kindly let us know. Furthermore, on the off chance that you approach itemized webpage execution data, like New Relic APM. If it's not too much trouble, give however much data as could reasonably be expected with regards to the presentation of your site.
Whenever you've accumulated that information, connect with us. Assuming that you're now a client you can arrive at our Account Management group involving the talk framework in OnliveServer. Assuming that you're not yet a client you can arrive at our Sales group utilizing our contact structure.