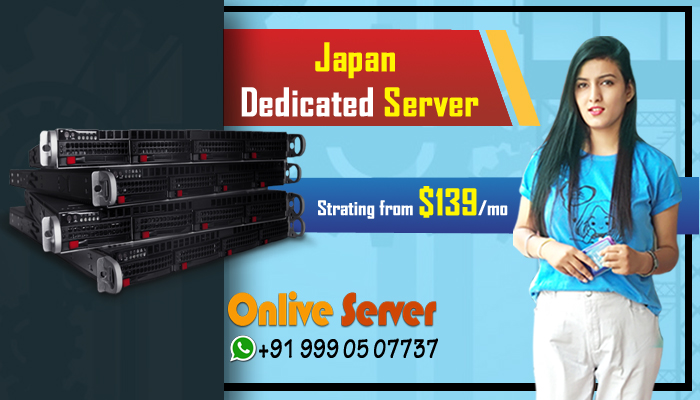 Build your very Cheap Japan Dedicated Server at $169/month
Onlive Server created practices and strategies to keep up great QOS and uptime to our dedicated servers customers. Beginning with the server equipment, on which we never bargain and utilize just the best accessible administrations through the data centers we use for collocation. We provide completely Japan Dedicated Servers. Which incorporates proficient working framework establishment, fundamental configuration, control board establishment and setup, backup setup, maintenance, and framework checking accessible 24 hours and experts to handle any issue exceptionally fast. We screen all servers from our Tokyo server farm and handle all matters inside minutes. We offer the best oversaw Dedicated Server Solution Available with Linux or Windows working frameworks. Our Dedicated Server Solutions likewise accompany 24×7 hours and Server Secure hardening. We offer single-processor and double-processor Dedicated servers. You can choose between self-managed, core managed, and fully managed plans and get the best bolster esteem with our Onlive Server.

Processor / Cores / Threads / RAM / Space
Location
Monthly
Action
Benefits of Japan Dedicated Servers
Japan Dedicated Server Provide You fast setup and free installation for your server. It provides you Unlimited Domains, Free Migration Service and we take care of your control panel best of our capacity. One of the most important things about our dedicated server is you can easily add many clients and domains as you wish and it is fully Optimized & Secured. We Provide Full Managed support for all Dedicated Servers with a CPanel control panel. As well as offer Free Backup and extra backup drives with all our dedicated servers.

In Japan Dedicated Server you can Choose and create your own Private name servers and white-label name servers. it also give you Root access / SSH and full administrator rights to your dedicated server. In the case of 3rd party installations, it is free, and if you need a forum, etc. installed. We will take care of it. Onlive Server provides you 365 Days of Support through the Helpdesk,24/7/365 Pro-Active Service Monitoring and Restoration, On-site Pro-active Server Management, Premium Multi-homed Bandwidth from Multiple Tier 1 provider,100% Network Up-time Guarantee, 30 Minute Hardware Replacement SLA and initial Server Hardening.
Some important reasons to choose Japan Dedicated Server
Japan Dedicated Server is an ideal solution for businesses looking to host their websites. We offer a variety of benefits that make it one of the best solutions available on the market.
In this article, we'll discuss some of the reasons why businesses should choose a Dedicated Server over other hosting services.
To handle the high-traffic website.
One of the most important reasons why people use a dedicated server is that it can handle high-traffic websites. The more traffic you have, the more powerful your server needs to be in order to keep up with demand. If you are running a high-traffic website, having a dedicated server will help ensure that your site doesn't crash from an overload of visitors or from poor performance.
When Security is an important concern.
When security is an important concern, choosing a dedicated server in Japan can be very beneficial. Hosting your website or data in Japan's data center can help protect against the threat of earthquakes and other natural disasters. If you are hosting with a company that offers disaster recovery services, then there is no need to worry about losing your data if you experience an incident.
Japan's government also has stricter privacy laws than some other countries, which means that customer data will be better protected from hackers and thieves.
When you require More storage space
If you require more storage space, a dedicated server is the best option. The reason for this is that they have much larger hard drives and are usually connected to a higher bandwidth network which will allow them to handle more traffic and provide faster download speeds. It's also possible that you might need more RAM if you're expecting to do some web hosting or any other high-memory-intensive tasks.
When the Fully Managed, Support and Speed is your Primary Requirement
If you are looking for a reliable and affordable server with speed as your primary concern, then Japan Dedicated Server is the right choice. This network is one of the most well-known networks in the world, delivering amazingly fast internet speeds. If you Buy Dedicated Server from us. We provide Fully Managed Support which will help you maintain your site without needing to hire someone else.
When you require full Server Control
Many people, when they require a server, will choose one of the many virtual servers that are available. Virtual servers can be cheaper and easier to set up than dedicated server. However, if you want full control over your server and what happens on it – including being able to do anything without having any downtime – then you should go with a dedicated server. A dedicated server will give you full control over your data and hardware and is usually.