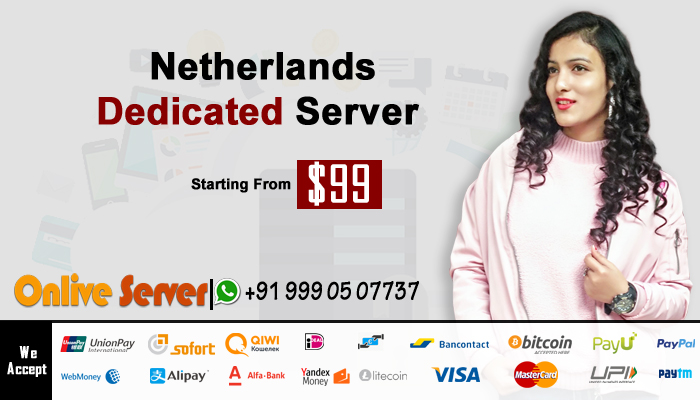 Now these days it's very difficult for us to choose best hosting service provider at the lowest price for us but Onlive Server Private Limited makes our work very simple. It offers us an affordable Netherlands Dedicated Server for us. As our Netherlands VPS and Dedicated Hosting Server farms are composed with cutting edge framework approach, we vow for more grounded security, bring down combination costs, and quicker time to administration and innovation.
Processor / Cores / Threads / RAM / Space
Location
Monthly
Action

Netherlands Dedicated Server – DSX1 – Core i3-2100 – 2c/4t/3.10GHz, 16GB RAM, 2x 1TB HDD
Netherlands
$99

Netherlands Dedicated Server – DSX2 – Intel Xeon E3-1230v3 – 4c/8t/3.70GHz, 32GB RAM, 2x4TB SATA
Netherlands
$130

Netherlands Dedicated Server – DSX3 – Intel Xeon E3-1230v5 – 4c/8t/3.80GHz, 32GB RAM, 2x 480GB SSD
Netherlands
$150

Netherlands Dedicated Server – DSX4 – Intel Xeon E5-1650 – 6c/12t/3.80GHz, 64GB RAM, 2x 480GB SSD
Netherlands
$170

Netherlands Dedicated Server – DSX5 – Intel Xeon E5-1650v3 – 6c/12t/3.80GHz, 96GB RAM, 480Gb SSD + 4Tb SATA
Netherlands
$200
Our arrangement of offerings is custom fitted for the assembling, IT, retail, training, money related, and opens area industries. Our VPS and Dedicated Server Hosting plans accompany cutting edge hypervisors. All our hypervisors are running with Dual Intel Hexa Core Xeon processors. The capacity is controlled by NetApp which offers level III design between SSD, SAS, and SATA stockpiling to guarantee most ideal execution and higher IOPS.
On App engineering promises you have finish repetition at all levels on our Xen platform. We offer tailor-made VPS and Dedicated Hosting plans that can altogether scale up with your developing business requests. Supported by achievement safety efforts and unparalleled innovation, we fabricate the best client experience. Besides, our VPS and Netherlands Dedicated Server Hosting arrangements are planned remembering the necessities of the advanced business and we help organizations of all sizes to build and execute workloads at scale.
Watch the Video
With the Onlive Server Private Limited's VPS and Dedicated Hosting administrations, you can all the more productively arrangement and design IT assets to grab the one of a kind business opportunity without blazing a gap in your pocket. What's more, our layered security plot secures your physical resources and in addition digital resources and anticipates disruptions.
With over 8 years of extensive experience, we convey a far-reaching suite of VPS and Dedicated Hosting and managed Hosting administrations to customers working crosswise over various topographies. Besides these all, we have our own data center in Netherlands and due to nearer data center we guarantee you to give you more network uptime to your server.