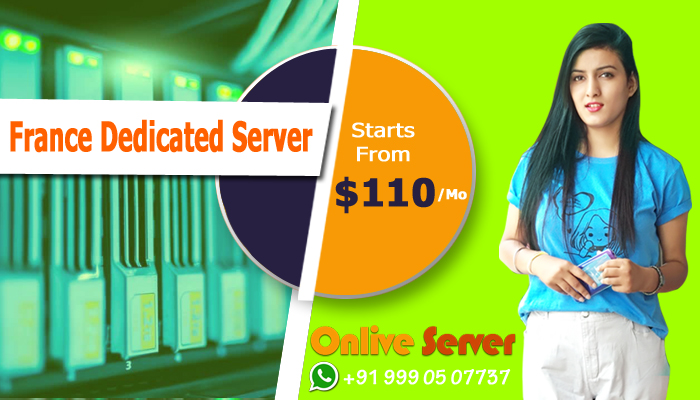 Dedicated Server Hosting is a beneficial Hosting solution for those companies who are looking Best Server Hosting Plans at a affordable price. so, Onlive Server are provide fully managed France Dedicated Server Hosting at a very impressive price. This is the best choice for those who cannot afford High price Dedicated servers hosting. we provide more benefits than other servers. Our Company providing you robust Server Hosting solutions matching your business demands and requirements. Our Dedicated Server Hosting provide every possible support for your business development.
Processor / Cores / Threads / RAM / Space
Location
Monthly
Action

France Dedicated Server – DSX1 – Intel Xeon-D 2123IT – 4c/8t/3.0GHz, 32GB RAM, 2x 2TB HDD SATA
Gravelines, France
$110

France Dedicated Server – DSX2 – Intel Xeon-E 2136 – 6c/12t/4.50GHz, 32GB RAM, 2x 500GB SSD
Gravelines, France
$139

France Dedicated Server – DSX3 – Intel Xeon-D 2141I – 8c/16t/3.0GHz, 32GB RAM, 2x 4TB SATA
Gravelines, France
$159

France Dedicated Server – DSX4 – Intel i7-7700K – 4c/8t/4.5GHz, 64GB RAM, 2x 960GB NVMe + 4TB SATA
Gravelines, France
$199

France Dedicated Server – DSX5 – AMD Epyc 7351P– 16c/32t/2.9GHz, 128GB RAM, 2x4TB SATA
Gravelines, France
$299
Our Server Hosting platform offers customers an large access and adaptability that different hosting platforms don't. There are several providers which providing Dedicated Server Hosting services. to look the reliable provider may be a difficult errand for client. but we provide hosting plan at Cheap price France Dedicated Server Hosting value with high resiliency.
Our France Dedicated Server Hosting provide higher security than others and it provides best resources at lower levels. It is easier to get a wonderful service at affordable cost. For example, when you have size able files on videos, music, book or any other files, then it would be easier to select sizable hard drive suitable for the preferences. When you don't have enough content instead of dynamic pages along with the huge number of traffic, then you can focus on choosing something along with dual-core processor. It certainly set with 100% network uptime guaranteed for the operating system and keeps running without any glitches. Our Plans is available in both Linux and Window hosting are perfectly matched the operating system. Dedicated server hosting service plan makes the managed unlimited free email account as well as managed for the customers.
Get experience Dedicated Server Hosting for the lowest price. Our Server Hosting comes with cPanel such as Gnupanel, H-Sphere, HDE Controller X Hepsia CP, Hosting Controller, i-MSCP,InterWorx, ISPConfig and many more to manage your website and associated services like emails and DNS.
Great Benefits Of Dedicated Server Hosting Plans:-
Better Response Time:-
With a Dedicated Server Hosting the response time of your website improves and it can easily handle high load due to occasional traffic spikes especially offers on your website but the other server have not potential to balance a load and by this affect the performance your website.
Scalable:-
Mostly server offer limited resources But with a Cheap Dedicated Server Hosting you have ample amount of resources available and when you need additional resources you can scale up easily as well.
Flexible:-
One more have a great benefit with our Dedicated Server that is own physical server. Here you can manage it according to your needs. There are no restrictions on what goes on to the server. You can choose your own operating system like Windows or Linux.
Security:-
For any kind of website like large or small there is equal importance of data security. If you have stored personal client data or important business information on the server then you must have to take high level of security. With a dedicated server get firewalls protection and regular malware/virus scans.