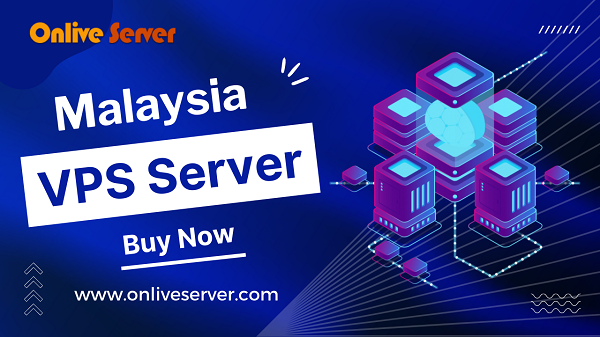 If you're running your business from Malaysia and you need a Malaysia VPS Server, there are many things to consider before choosing the right one. You want the best bang for your buck, so don't be afraid to ask questions before signing any contracts and make sure you get what you pay for in terms of both quality and service level agreements (SLAs). Individuals are often looking for VPS servers from both in and outside Malaysia. This can be a complex decision to make due to the reality that many of these potential vendors face. With the emergence of technology, new companies are utilizing different services for sale and for use. In this article, we share some benefits of choosing the Malaysia VPS Server from the Onlive Server.
Why you need a secure Malaysia VPS Server
If you are thinking of starting a business in Malaysia or if you already have a business in the country, you will need to get a Malaysia VPS Server. A VPS server is a virtual private server that allows you to host your website or online shop on a secure and reliable platform.
There are many benefits of getting a Malaysia VPS server from Onlive Server. Firstly, our servers are highly secure and reliable. We offer 247 customer support so you can always reach us if you have any questions or issues. Secondly, our servers are very affordable and you can get started with as little as $20 per month. Thirdly, we offer a wide range of features and options so you can customize your server to suit your specific needs. Lastly, we have a long-standing reputation for providing excellent service and support to our customers.
Name
OS
Core
RAM
Harddisk
Bandwidth
IP
DC Location
Monthly Price
Malaysia VPS Custom
1
1 GB
30 GB SSD
Unlimited
1
Cyberjaya, Malaysia
$20.00
Malaysia VPS X
1
1 GB
30 GB SSD
1 TB
1
Cyberjaya, Malaysia
$20.00
Malaysia VPS Y
2
2 GB
60 GB SSD
2 TB
1
Cyberjaya, Malaysia
$37.00
Malaysia VPS Z
4
4 GB
120 GB SSD
4 TB
1
Cyberjaya, Malaysia
$71.00
Types Of VPS Server Onlive Server Provides
There are various benefits of choosing the Malaysia VPS Server. It provides different types of VPS servers to satisfy the requirements of customers. The following are the types of VPS servers that the company provides:
KVM VPS
Malaysia VPS Server comes with KVM virtualization that provides you with better server speed and performance. It offers you more security and isolation to your websites as compared to other VPS hosting providers. By having your own VPS server, you will get complete root access to your server so that you can install any software or application that you need.
SSD VPS
The SSD VPS provides high performance, security, reliability, and root access at an affordable price. It gives your websites and applications the power they need to stay up and running smoothly.
Linux VPS
Bloggers who are looking for a more affordable and reliable VPS hosting solution can consider the Malaysia VPS Server. This company offers various benefits that make it an ideal choice for bloggers, including:
Affordable Pricing: They offer some of the most competitive pricing in the industry, making it a great choice for budget-conscious bloggers.
Reliable Service: Onlive Server is a company that is known for its reliability and uptime, so bloggers can expect their websites to be up and running smoothly.
Powerful Features: VPS servers come with powerful features that can help bloggers boost their website's performance, such as SSD storage, bandwidth throttling, and more.
Windows VPS
We are one of the most reliable and affordable Windows VPS hosting providers in Malaysia. Our Windows VPS plans are designed to meet the needs of businesses of all sizes.
Our Malaysia Windows VPS plans come with a number of features that make them ideal for businesses:
Affordable: Our Windows VPS plans are very affordable, starting at just $29/month.
Flexible: Our Windows VPS plans are flexible and can be customized to meet your specific needs.
Scalable: Our Windows VPS plans are scalable, so you can easily upgrade your plan as your business grows.
Reliable: Our Windows VPS plans are backed by our 99.9% uptime guarantee.
Advantages of Malaysia VPS
There are plenty of reasons to choose a Malaysia VPS server from Onlive Server. For one, the company has a great reputation for providing reliable and high-quality servers. Additionally, their customer support is excellent, and their prices are very competitive. Here are just a few more advantages of choosing a VPS Server:
1. Superior Performance
Our VPS servers are known for their superior performance. This is due to the company's use of top-of-the-line hardware, including SSDs and processors from Intel and AMD. Additionally, the company offers a wide range of features that can be tailored to your specific needs, ensuring that you get the most out of your server.
2. Fully Managed Services
When you choose a Malaysia VPS server from Onlive Server, you can rest assured that your server will be well-taken care of. The company offers fully managed services, meaning that they will handle all aspects of your server for you. This includes updates, security patches, and monitoring. Additionally, their customer support team is available 24/7 to help you with any issues you may have.
3. Affordable Prices
Among the Malaysia VPS Server we reviewed, Onlive Server was among the most affordable options. Their shared, reseller, and dedicated servers all offer competitive pricing depending on your specific needs. When you take into account their features and their competitive prices, they offer one of the longest value-for-money ratios in the business.
4. Highly Resilient Datacenters
The company has invested very heavily in its network facilities and data centers to ensure that it can respond quickly to any change in conditions or requirements. Additionally, it does not oversell its systems or control capacity due to its multiple geographically redundant nodes for hosting Malaysia VPS Hosting services or high-performance web hosting service-based mirror image environments implemented best practice upgrades are done every day.
5. Safeguarding of Data
Data is the most important thing for any website. If you are having an online business then data is like your oxygen. A VPS server in Malaysia provides an extra layer of security for your data as your data will be stored in a remote location. Even if your local computer is hacked, your data will be safe on the server.
Conclusion
A Malaysia VPS Server can provide your business with a number of essential features, including increased security, reliability, and flexibility. By understanding what these features are and how they can benefit your business, you can make an informed decision about whether a Malaysia VPS Server is the right choice for you. A Cheap VPS Server can provide your business with a number of essential features, including increased security, reliability, and flexibility.
It's important to know all the facts before making any decisions about upgrading or changing your current hosting solution; by doing so you will be able to protect yourself from unforeseen risks and issues that could negatively impact your website's performance in terms of speed and traffic volume.