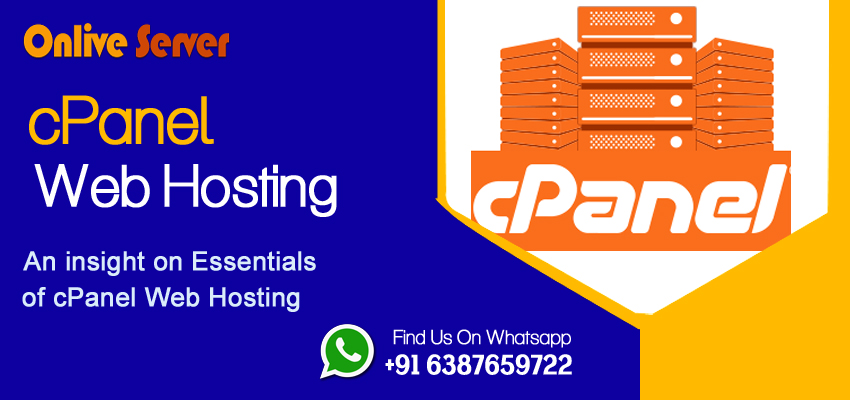 Firstly this is very important to know what is cPanel? cPanel Web Hosting Plan that controls panel software which is developed by cPanel. Onlive Server offer a graphical alliance and also automation tools that are designed to make easy process of hosting a web site to the website owner. Users have right access to their web hosting account primarily through a (cPanel), but not to the server on which their account is hosted. The cPanel web hosting service provider is responsible for the overall management and maintenance of the server. Onlive Server provide you unlimited sites, FREE migration, FREE SSL, FREE backups, and super-fast speed, SSD storage are all included in our cPanel Hosting .
Onlive Server provide Best cpanel Web Hosting Plan
Onlive Server provides you best three different plans of cpanel Web Hosting with cheapest price.
Standard cPanel Web  Hosting : $2/ month, One Domain Hosting , 5GB SSD Space
Business cPanel  Web Hosting : $5/ month, 10 Domain Hosting ,60GB SSD Space
Reseller cPanel Web Hosting : $9 / month, 20 Domain Hosting ,150 GB SSD Space
 Features of cPanel Hosting
Manage FTP Accounts: File Transfer Protocol or FTP is a protocol that provides users to upload and download all the files and also create or delete them, organize your files in your folder and allows you to change the file according to user permissions.
Strong Database support service: cPanel also provide you MYSQL and postgre SQL to support your cPanel. Both of them are arrange query languages that are mostly used to collect information from databases. cPanel web hosting also provide you security so that your website has solid database management system.
Add Multiple Domains: If you want to add multiple Domains? Onlive Server provides you cPanel hosting that allows you to add multiple domains and also edit the zone files of the domains by modifying their records. If a client want his website with a different domain name, it can be easily possible through domain aliases in cPanel. cPanel can also redirect a particular web page to another domain bu using the redirect feature. CPanel hosting allows you to add sub –domains.
Manage your email easily: Onlive Server allows you to manage your email so easily with cPanel hosting as it offers wide variety of option. With the help of cPanel you can possible to create, edit and remove email accounts. You can also easily change your password. You can also set the, mailbox quota and can easily configure your mail box with your user as Outlook. CPanel is also easily to configure your emails with your Gmail account. CPanel provided you a mailing list option which helps you to send emails to multiple users easily. You can filter your emails as per your requirement and forward the mail easily to those people you want.
Softaculous for Installing Application: With just a single click cPanel hosting offers you Softaculous script installer which helps users to install their applications easily. With the help of softaculous you can easily install more than 400 applications. Applications include Word Press, Joomla, Magento etc. Nowadays cPanel hosting become very popular among web professionals.
Backup and Scalability: In your cPanel Hosting is included your data remain always safe and secure. Since cPanel is unified with backup features one of the most important features is that you can easily back up your data at any time.
Complete control on Applications: With cPanel web hosting you get full control on your hardware and software applications. You can easily shutdown your server from a remote location and also reboot your operating system if you want. If you want to select VPS hosting plan , along with cPanel you get Web Host Manager (WHM) while if you select reseller hosting, you get WHMCS with the cPanel.
Cost –Effective as compared to windows: cPanel is cheapest as compare to other platform that is the reason people choose cpanel rather than control panel. cPanel web hosting is a hosting that includes all the right applications which are combined together to robust management of your website.
24*7 Support- Our support team provides you 24 hours service. If you are facing any issue regarding cPanel web hosting you can ping us on our live chat or send us mail on our support mail id.