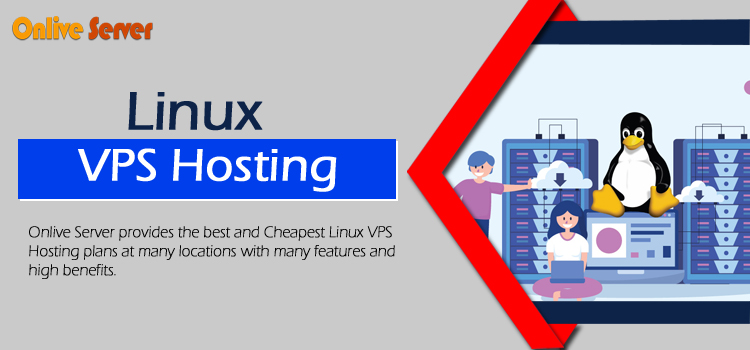 Linux VPS Hosting- the Best Option for Your Business
Linux VPS hosting can be modified as per your needs, therefore, you are only using the resource assignments that you need, It is good to check first different Linux VPS Hosting provider companies because there will always be different levels of support on offer as well as varying resources. The main advantage of this kind of hosting is that it can be easily customized according to your requirements; this kind of hosting offers full control to users and a lot more security than other hosting options out there.
Linux VPS hosting offers various benefits. For example, they are flexible and cheap, easy to use with fewer hardware requirements compared to dedicated servers. Linux virtual private server hosting also helps your site safe with effective firewalls and security tools. If you want to save both your time and money then choose today Linux VPS Hosting from Onlive Server. Onlive Server provides dependable hosting services in every price category according to your necessity and budget. Firewall Security is available here to keep your website secure from web attacks.
Fully Managed Services of Linux VPS Hosting KVM hypervisor
KVM is one of the open-source virtualization technologies that provide Linux virtual machines in a very efficient way. Our expert technical team maintains all aspects of managing Linux VPS and KVM hypervisor, it's better than any other providers or datacentre. You will get a very low price only with Onlive Server using Linux vps hosting. We take care of every aspect so that you don't have to worry about anything while staying focused on your business. Even after you've launched your site, our team can ensure regular backups, continuous monitoring, and proactive mitigation when things go wrong with either your VPS or data center facility! we are ready to deliver 100% availability backed by a 99.95% uptime SLA guarantee
Processor / Cores / Threads / RAM / Space
Location
Monthly
Action
100% Uptime Guarantee
With Onlive Server, you can rest assured that your Linux VPS is hosted on professional and high-quality server infrastructure with a 99.9% uptime guarantee. This ensures that your business data is always available and up to date which maximizes your return on investment (ROI). The 100% Uptime Guarantee allows you to worry less about possible technical issues with our hosting services, so you can focus on your business goals instead. Our unique monitoring software ensures our team of system administrators gets notified immediately of any problems that might occur with our Linux virtual private servers (VPS), so we can promptly resolve them before they cause interruptions in service or affect you negatively in any way.
Advanced Security Features
We provide more advanced security features like KVM & IPMI which protects your Linux VPS with different levels of access control. Apart from that we also provide Linux Kernel Firewall and IP Table to secure your Linux virtual private server from any malicious or unauthorized access.
Linux VPS hosting comes with advanced security features. These features secure your data and server to protect it from any possible harm, i.e., Firewall Security and DDOS Protection. Your server will be safe under these powerful tools against any unwanted attacks or intrusion of malicious hackers in order to access data through illegal ways.
Full Root Access
Linux VPS Hosting gives you full root access so that you can install any software without any interference. We have our team of experts who are available 24/7 to serve you better. You will get an immediate response if there is any issue. Live chat and ticket systems are our two prominent ways of handling customer service issues and we always prefer live chat to resolve customers' queries in a short span of time. Many users visit our website on daily basis just to use these services.
Data Backup –
This data backup service saves your website database and critical business files from any kind of disaster. In case of any failure, we will restore all your data within a few hours. As we all know that nothing in life is permanent and everything has an end so also our data is always under threat. Always backup your website data on daily basis with our Linux VPS Hosting to secure yourself from any issues. Using these services of cloud hosting you can avoid service outages and increase uptime to 99.99%. Our technicians are always present at the customer's side to support them through live chat or emails in case of any issues arise.
Exclusive Use of Network Resources
One of Onlive Server's main priorities is to offer clients a personalized hosting experience that is both secure and reliable. This is why you can be certain your resources will always be available, even when you are sleeping or away from your desk. In other words, our company uses a dedicated server to host your business files, so that means we have exclusive use of it. That way no one else can access your data; providing you peace of mind and encouraging customers to remain loyal to our service.
Conclusion
It's easy to see why so many people choose Europe Server Hosting to host their websites. In addition to providing a wide range of hosting options and managing systems that make it simple for you to create new pages, blogs, videos, and more, you also get a 100% satisfaction guarantee. If you're not happy with what we do, we'll either fix it or issue you a full refund—no questions asked. Contact us today for an all-inclusive quote on our services and packages—you may be surprised by how affordable we are!