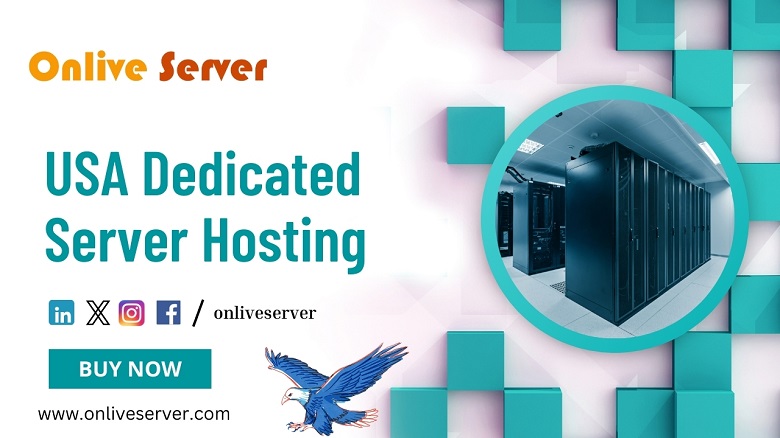 How USA Dedicated Server can affect your business growth
When we launch our website, the first thing that comes to mind is web hosting. You can think of a common hosting plan to save a good amount. However, as the business grows, you'll want to upgrade the hosting plan. Many start-ups continue to use a shared hosting plan. However, this is not a preferred option for a growing business. This article lists some top reasons to upgrade the hosting plan and buy a USA Dedicated Server hosting package for your business organization. If you have a business website, there are tons of resources you can spend planning seasonal and weekend sales. This is done to attract more traffic and generate higher income. When you share hosting, your resources are limited and your website will slow down as the traffic increases. This leads to downtime that annoys many visitors. Here are other things that can happen:
Deploy Your Cheap Dedicated Server Hosting Plans In USA
Processor / Cores / Threads / RAM / Space
Location
Monthly
Action

USA Dedicated Server – DSX1 – AMD Quadcore – 4c/8t/3.0Ghz+, 16 GB RAM, 1TB SATA
Kansas City, USA
$79

USA Dedicated Server – DSX2 – AMD Sexcore – 6c/6t/2.7Ghz+, 16 GB RAM, 1 TB SATA
Kansas City, USA
$89

USA Dedicated Server – DSX3 – Dual Intel Xeon 5420 – 8c/8t/2.5Ghz, 16 GB RAM, 1 TB HDD
Kansas City, USA
$121

USA Dedicated Server – DSX4 – Intel Xeon E3-1220v1 – 4c/4t/3.4Ghz, 32 GB RAM, 240 GB SSD
Kansas City, USA
$121

USA Dedicated Server – DSX5 – Dual Intel Xeon 5639 – 12c/24t/2.13Ghz, 32 GB RAM, 2TB SATA
Kansas City, USA
$180

USA Dedicated Server – DSX6 – Dual Intel Xeon E5-2670v1- 16c/32t/3.3Ghz, 64 GB RAM, 480GB SSD
Kansas City, USA
$259

USA Dedicated Server – DSX7 – Dual Intel Xeon E5-2670v1 – 16c/32t/3.3Ghz, 96 GB RAM, 960GB SSD
Kansas City, USA
$399

USA Dedicated Server – DSX8 – Intel Xeon E3-1270v3 – 4c/8t/4.20 GHz, 32 GB, 2x 500 GB SSD
Texas, California, New York
$150

USA Dedicated Server – DSX9 – Intel Xeon E3-1270v3 – 4c/8t/3.90 GHz, 32 GB, 1 TB HDD
Texas, California, New York
$120

USA Dedicated Server – DSX10 – 2x Intel Xeon E3-1270v3 – 20c/40t/3.60 GHz, 64 GB, 2x 1TB SATA
Texas, California, New York
$230
• Visitors don't wait too long and your slow-moving site will take a few minutes to load. After viewing, visitors simply click the button and go to other competing websites.
• You lose your sales and visitors. This marks the risk of a negative online reputation
• You will not be excited directly. Some social sites display negative reviews that can discourage potential buyers and thus afford you future potential.
• It can also increase negative SEO indicators like a back button press, your website closed within 3-4 seconds, negative Google reviews, etc.
With dedicated hosting, you lose revenue, opportunities, and customers. These things are going to ruin your reputation. This is not what you want, and this is why users are upgrading to a dedicated server hosting plan that can bring you the best of things at a reasonable cost.
Why choose USA Dedicated Server?
• Do not rate negatively
If you have an online shopping website, you want to avoid the queues and delays. A slow-moving website completely destroys the buyer's motives and visitors won't find a good reason to shop at your digital store. It seems like a complete bug strategy for people to leave negative reviews of you. Most people use the website on the cell phone and when it comes to speed they ask for even more. If you don't want a slow loading site, you can choose USA Dedicated Server.
• Special availability and premium experience
With shared hosting, the resources are divided among several customers. This is the main cause of fluctuations when traffic peaks. Cheap Dedicated Server Hosting offers a lack of sufficient resources that affect speed and availability. On the other hand, resources are available to you around the clock. You will find 24/7 availability of dedicated resources that help support traffic peaks without compromising speed or availability. Customers have better control over the resources and can thus tailor the resources to specific requirements.
• Gain Rewards
If there is more traffic, this means more rewards are on your way. But remember more traffic brings more responsibilities. Along with the number of visitors, stay duration and number of activities will also increase. You need to ensure that your hosting plan has sufficient resources and features to comfortably support the traffic. You cannot deliver the premium experience to your clients with a shared hosting plan. You need to invest in good resources for building a reputation and bringing more traffic to your site. It will be wiser to add a little more amount and upgrade your hosting plan to the best-dedicated server that can keep your traffic happy and loyal.
Enjoy tailor-made experience
Everyone wants to personalize the hosting environment and in a shared hosting environment, it is almost impossible. In the USA dedicated server, you get a uniform, specific hosting environment that can be configured according to your needs. You get the ability to customize things and create performance issues especially during the instances of specific technical demands.
Get extended control
If you have a lack of control over the hosting environment, this affects your capabilities and site performance. Cheap dedicated server hosting allows the user to gain better control over your site. They offer you administrator-level features where you can change the OS and the same parts of the applications to cater to the requirements.
USA dedicated hosting provides high-level security
The shared hosting follows the standards security protocols and this feature regardless of whether they cater to your specific situations or not. This will make your site prone to many security risks. The USA Dedicated Server plan offers you complete privacy and much-advanced security like dedicated hosting. You get extended control over the security features such as Antivirus or firewall configurations, choosing monitoring or air system. The client who chooses a dedicated server enjoys DDoS protection. Shared hosting can be the best option for the company that is at its beginning phase. This serves the business needs at their best but it isn't the right choice for growing business. The growing business attracts a huge number of visitors and several reasons why you choose immediately upgrade to your plan are to buy a virtual private server as soon as you start serving growth in your business. You must be convinced with the above reasons that make it important to upgrade your cheap dedicated hosting plan when before it is too late.