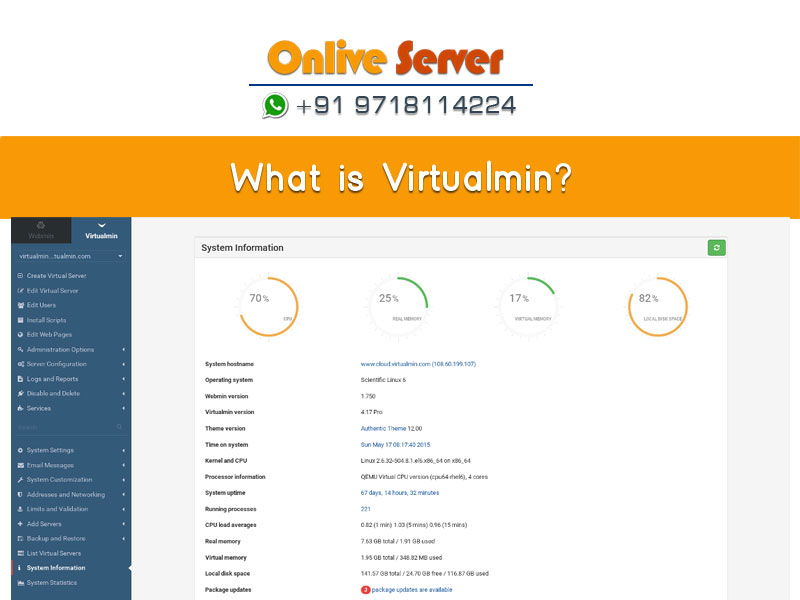 Do you want to know what is Virtualmin? If so, then have to read this article. Virtualmin is a website control panel and domain hosting that provides the capability to develop & manage numerous domains and hence available in both commercial and open source versions. This domain hosting system is based upon the Webmin and several web hosting systems usually prefer Virtualmin as the best alternative for Cpanel. Onlive Server offers Virtualmin for the users at a reasonable price rate.
About Virtualmin:-
Virtualmin is considered as the Webmin module created for managing numerous virtual hosts via a single interface like Cpanel or Plesk. It offers support for creation & management of MySQL databases, BIND DNS domains, Apache virtual hosts, aliases, mailboxes with Postfix or Sendmail. It employs existing Webmin modules and can work with any type of system configuration instead of necessitating its own web server, mail server etc So, user needs to know about what is Virtualmin.  
Virtualmin can generate Webmin user for every virtual server who is just limited to manage his domain & its files. The control features of existing Webmin module access are employed and established automatically to restrict the user accordingly. These administrators of the server can able to manage the mailboxes & mail aliases within their domain through a web interface which is a segment of the module.  
Versions Of Virtualmin 
There are two versions of Virtualmin available such as: 
Virtualmin GPL:
This version is downloaded for free of cost. It does not include all features which come under professional version.  
Virtualmin Pro:
It is known as the commercial version and you need to pay for it. The professional version of Virtualmin incorporates plenty of features which is not available in GPL versions like virus filtering, HTML editor, resellers, script installers, an improved UI and mobile access.  
Both GPL and Pro versions are developed with the same codebase so bugfixes & new features are applicable for both of them. User needs to know about what is Virtualmin and their all versions. 
Features Of Virtualmin:
Virtualmin Pro and Virtualmin GPL web hosting Cpanel offers an easy-to-use tool for managing mailboxes, databases, websites, web application development and web applications environment. In addition to that, Virtualmin tends to support fascinating features which are rarely available in other kinds of control panels like 2-factor authentication, advanced access controls, command line management and LDAP authentication.
Being a flexible and powerful web hosting Cpanel, Onlive Server offer cheap VPS hosting and Dedicated server plans with full API, comprehensive command-line interface, auditing, sysadmin-friendly Virtualmin. also get Unmatched security features as well as offer best support in the industry. It is ensured that Virtualmin offers the utmost capabilities which you want, offer a professional look & cater to the customer demand.