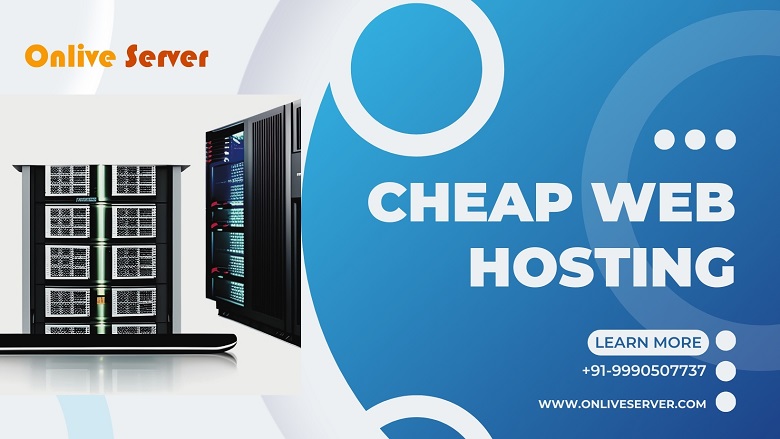 Cheap Web Hosting – Onlive Server
IF you ever make or design a website for your content, you will need to take up some measures so that others can view it all over the internet. This is where a Cheap Web Hosting platform comes into use.
A website without a place to host is just like a regular BlogSpot page, and if a person searches for the domain name on the internet, he or she will not be able to find it. So, to make your website visible to all audiences ruling the world, you will have to hire a web hosting service provider to host your website on their servers. Now that we have understood the use of a hosting web service, we need to know as to what web hosting means. In simple terms, web hosting can be defined as a platform or a server that stores all the data and information of your website in single storage space, so that it can be accessed by you as well as various other users of your website. Apart from this, they also help to back up and save all the deleted data which you can retrieve very easily.
What are the points which you should consider while choosing a hosting service?
As the owner of any website, it is the primary objective to cater to the needs of the audience and ensure that your content creation can reach every one of your audience out there. So, you will have to choose a perfect web hosting server so that everyone can view your website without any lag or delays.
However, it has been seen that people get tempted to opt for a web hosting service platform and, in turn, face a lot of problems during the entire period. Hence, it is imperative to judge and inspect a few critical factors before choosing a particular web hosting service for your website.
Read and check the plan details before purchasing it
Nowadays, web hosting service providers use extensive marketing and different other types of advertising techniques to lure customers into their grasp. However, it has been seen that in the long run, these cheap web hosting service providers do not stand up to their promises and have various hidden costs that are revealed after a certain point of time. So, to protect yourself from such kind of fraud and other hidden costs, you should read each detail of the particular plan before deciding to purchase it.
Check the performance details
It is only a matter of certain months that your website will start to get high amounts of views and traffic. So, your web hosting service provider should be equipped to handle such a splurge of traffic, and in case the web hosting provider cannot come up with the huge traffic surge, you will suffer from excessive downtime, and your website will get affected. Apart from this, you should also have control over the functionality of your website, and hence, it is advised that you should always check the performance details before opting for any cheap web hosting service provider.
What is the best web hosting service provider?
If you are looking for a Linux Web Hosting service provider which is also capable of handling a good amount of traffic, you should definitely opt for Onlive Server. They provide you with extensive customer network support, which will help you all round the clock to solve all your problems and will also help you with a free domain and DNS management.